Professor Ross Renton, Principal at ARU Peterborough writes about his institution's approach to developing a skilled healthcare workforce for local needs.
Skills needs
ARU Peterborough as an institution has been specifically designed to target local skills needs, co-creating the curriculum with employers. That crosses a wealth of areas in the sciences, business and engineering, but it is especially true in healthcare.
We're meeting the needs of our local NHS partners and other providers in the Peterborough region.
For instance, we have recently launched a course on paediatric nursing: that stemmed from our local NHS trust outlining what skills needs are required in the city and region.
Nursing applications are down 18% across the country this year. That's why it's our duty as universities, working with NHS trusts and with government, to ensure that potential students understand how rewarding careers in nursing and midwifery and other healthcare areas can be.
We have a duty to encourage people from a diverse range of backgrounds to study healthcare subjects. Some of our students are 18-year-olds straight from school and college, but there are a significant number coming back to education as mature students. Some have started families, some have had other careers. What we are saying to them is: you can have a great impact on other people's lives, no matter what your background is.
It's incredibly rewarding to make a positive impact on your own community. We have a place-based approach here, so students come from the local area, and then serve back into that community or communities nearby.
But there are challenges: we need to be open and honest about the fact that if you are studying to become a healthcare professional, it's not an easy course. It's not easy to go into an environment where at times there are significant challenges, not least responding to a global pandemic.
But it's important to highlight how rewarding it can be.
We need to say to students: you can continue to develop your skills and take on important leadership roles within the NHS and beyond, where you get to use some of the latest technology and your knowledge will always be expanding. You don't have to stop once you get the degree, you can continue to develop.
For example, there are some really exciting opportunities within nursing: you can become a research nurse, or a digital nurse. You can take on senior management roles. We want to say to potential nurses and midwives: you can have a major role in shaping the future of healthcare in our country.
Simulated learning environments
At ARU Peterborough, we keep pushing the boundaries using high-quality simulation facilities. We've invested in this because we know that having high quality facilities, including skills labs makes a difference. It helps students understand the theory and test their skills before going into clinical practice.
We continue to invest, with our latest development being an extended reality facility where students can be put into any scenario within the immersive environment. It will help them manage what to do in some of the most high-pressure situations and helps our staff to continue to develop their digital skills.
In order to ensure our graduates are rounded healthcare professionals, we need to get the balance right between the student learning in the immersive simulated environments we provide, and them being out on placement responding in real life.
On the simulated wards, everything works the way it would in a real NHS ward, whether that be the patient alarms or the suction system. The patients here are manikins, life-like patient simulators, but they are able to respond to treatment, students can put cannulas into them, their eyes move, and they make sounds.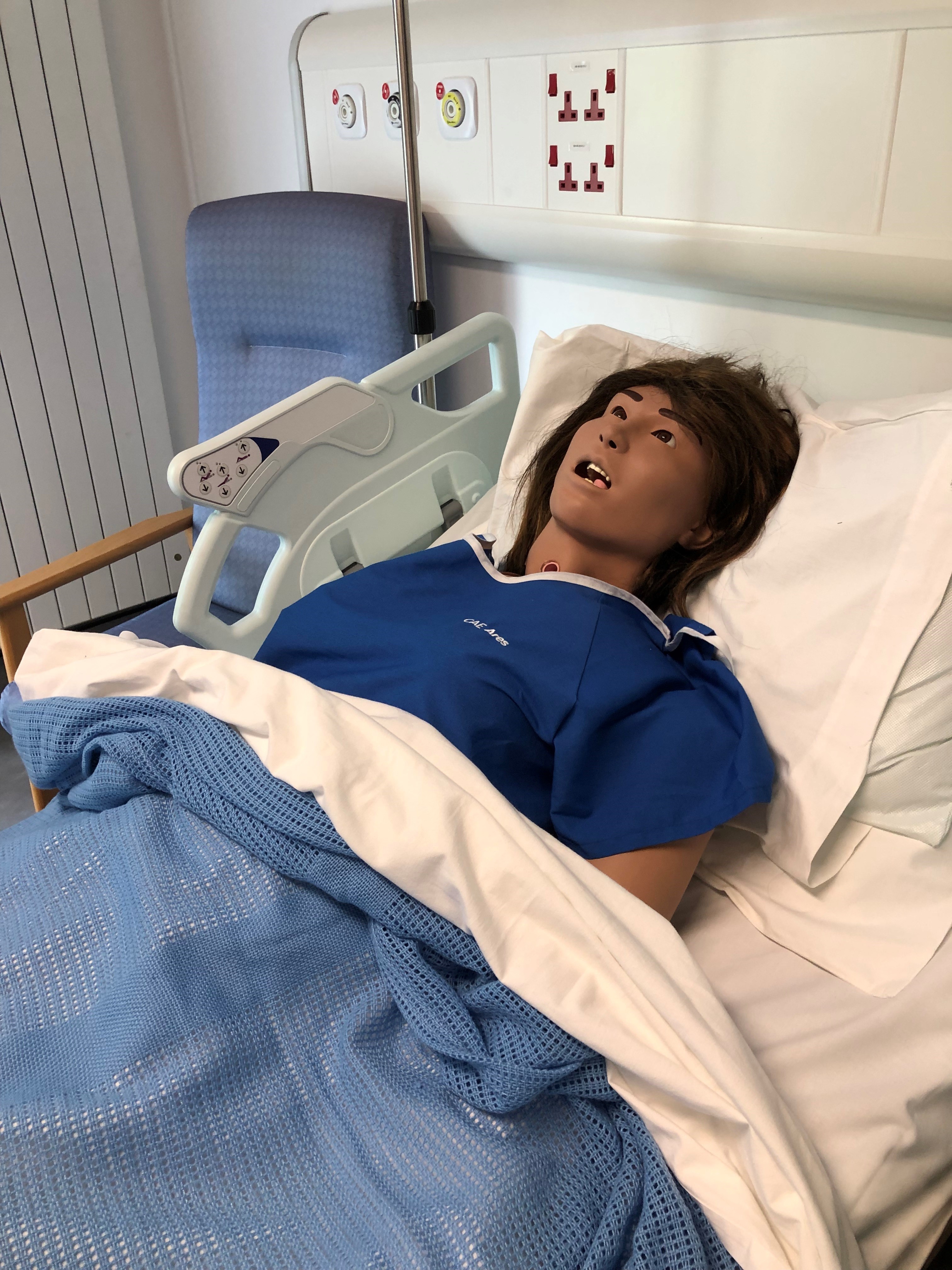 Even the placing of furniture in the room is as you'd find it within a ward setting. When the pressure's on and there's a real-life issue, the nurses will know where to stand and what to do.
It can create quite a high-pressure environment, but it teaches our students how to respond, for instance, when a patient is in pain, or if they need additional support. Having nurses and midwives study in simulated environments is really important. It doesn't replace the experience of placement, but it certainly complements it.
Our facilities are used by our NHS trust partners on a regular basis for teaching too. This partnership is hugely important to ensuring that everyone is receiving the best possible education and remaining as up to date as possible.
Scaling up the workforce
So, what's holding us back? I think it is a combination of things, but we really need to ensure that there are enough placement opportunities and this is a challenge, particularly for our NHS partners who are under immense pressure to meet the needs of their communities. Therefore, it is important they are given the support they need to ensure locally based providers can expand placement capacity.
And this is part of our own partnership approach: looking at how we can expand opportunities in different settings for the next generation of locally sourced healthcare professionals.
We need to be really ambitious as a country about how we are going to achieve this. To set challenging targets for the number of professionals we need to train, and for the Government to provide support to deliver the scale needed.
Powering the UK's future