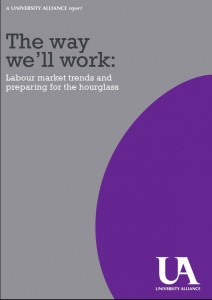 Our new report, 'The way we'll work: labour market trends and preparing for the hourglass,' which highlights that the shortage of graduates threatens the future growth of the UK economy.
Contrary to popular belief, indicators suggest that there is a shortage of graduates in the UK, not too many. Technology is changing the way we work and the structure of the labour market which is resulting in an increased demand for graduate attributes. In light of these projections, the  decision to cut around 25,000 university places for next year could seriously hold back our capacity for economic growth.
The report draws on the large body of evidence on the shape of labour markets in developed economies. It demonstrates that if the UK is to remain globally competitive we need a greater proportion of graduates in our workforce. We also need to create genuine progression opportunities to drive social mobility and equip the population for the demands of an hourglass-shaped labour market.
You can read more about the impact on changes to the labour market in a blog by Libby Hackett, Director of University Alliance.
Read the report
Follow the debate on Twitter @UniAlliance | #needmoregrads