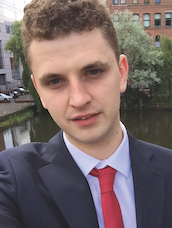 Anthony Slate is in the second year of his PhD at Manchester Metropolitan University 
Anthony's research could help us use wastewater in treatment plants to generate electricity whilst simultaneously removing toxins to make it safer for public consumption. 
His work focuses on the development of microbial fuel cells (MFCs) and coupling microbiology with electrochemistry. A microbial fuel cell is a bio-electrochemical system that harnesses the power of oxidising microorganisms, to convert organic waste directly into electrical energy. 
In particular, Anthony aims to improve the performance of MFCs by developing more efficient electrodes through the use of 2D nano-materials such as graphene and by optimising the conditions required by bacteria for effective electron transfer. In wastewater, the research could help isolate the most effective bacteria to use, which would further optimise conditions and improve power outputs from MFCs. 
Anthony was inspired to undertake this multi-disciplinary subject combining microbiology and electrochemistry to challenge his development and become a more versatile research professional.