University Alliance

>

All Publications

>

Consultation Response

>

University Alliance submission to the Education Select Committee
University Alliance submission to the Education Select Committee
Written evidence submitted by University Alliance to the Education Select Committee.
This submission accompanies our recent oral evidence appearance.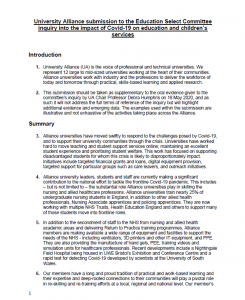 Share
Recent News

Recent Blogs

Media contacts

For media enquiries Contact Annie Bell, Head of Communications and External Affairs Email: press@unialliance.ac.uk Phone: 07513013289 Our CEO, Vanessa Wilson, is available for television, radio and podcast interviews, as is our Chair, Professor Debra Humphris Vice-Chancellor of the University of Brighton, and other Alliance university Vice-Chancellors or experts from within our institutions.