UA, along with 70 national and local organisations from across the country, are urging the Government to provide immediate clarity on how it intends to deliver the UK Shared Prosperity Fund (UKSPF).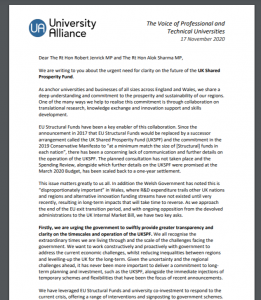 In an open letter, coordinated and led by UA, the group of 70 universities and businesses including the CBI, call for greater transparency and clarity on the UKSPF, the Government's proposed successor to current EU Structural Funds, so as to avoid vital support disappearing when existing programmes end in 2023.
EU Structural Funds have been a key enabler of collaboration between universities and business, used to support and develop communities and regions; whether through programmes that have increased employment and skills, or through initiatives to drive forward research, innovation and enterprise.
Without the timely replacement of these funds, many of the projects and schemes universities and businesses collaboratively deliver in local areas across the nation are at a huge risk, affecting individuals and livelihoods across the UK, at a time of growing economic challenges.
Full copy of the letter and a full list of signatories in the link below:
Open letter calling for transparency and clarity on UKSPF
Despite an announcement in 2017 and a further commitment in the 2019 Conservative manifesto, there has been a concerning lack of communication and further details on how the UKSPF will be operated, and under what timescales. No consultation has taken place in the last three years
University Alliance Chief Executive Vanessa Wilson said:
"EU structural funds have been a vital mechanism for universities to support businesses and communities – especially throughout the pandemic. Details of their replacement, the UKSPF, have been promised but not delivered, and time is running out as we approach the end of the Brexit transition period.
"University and business leaders want to work constructively and proactively with the Government now to address the current economic challenges and reduce inequalities between regions. Given the uncertainty ahead, it has never been more important to deliver the UKSPF, which will be a vehicle for the much-needed long-term planning and investment needed to level-up the nation."
Signed by: National and local organisations across the UK, and the Vice Chancellors of University
Alliance.
University Alliance, Vanessa Wilson, CEO
Anglia Ruskin University, Professor
Roderick Watkins, Vice Chancellor
Birmingham City University, Professor
Philip Plowden, Vice Chancellor
University of Brighton, Professor Debra
Humphris, Vice Chancellor
Coventry University, Professor John Latham
CBE, Vice Chancellor
University of Greenwich, Professor Jane
Harrington, Vice Chancellor
University of Hertfordshire, Professor
Quintin McKellar CBE, Vice Chancellor
Kingston University, Professor Steven Spier,
Vice Chancellor
Leeds Beckett University, Professor Peter
Slee, Vice Chancellor
Oxford Brookes University, Professor
Alistair Fitt, Vice Chancellor
Teesside University, Professor Paul Croney,
Vice Chancellor
University of South Wales, Professor Julie
Lydon OBE, Vice Chancellor
University of the West of England, Bristol,
Professor Steve West CBE, Vice Chancellor
CBI: Confederation of British Industry,
Matthew Pecival, Director People and Skills
Institute of Economic Development, Nigel
Wilcock, Executive Director.
Birmingham City Council, Councillor Bridget
Jones, Deputy Leader
Medway Council, Richard Hicks, Director of
Place and Deputy Chief Executive and Neil
Davies, Chief Executive
Coast To Capital Jonathan Sharrock
Chief Executive
Wakefield Council, Clare Elliott, Service
Director, Economic Growth and Skills
Harrogate Borough Council, Councillor
Graham Swift, Cabinet Member Resources,
Enterprise and Economic Development
West & North Yorkshire Chamber of
Commerce, Sandy Needham, CEO
South East London Chamber of Commerce,
Helen McIntosh, President
Kent Invicta Chamber of Commerce, Jo
James OBE, Chief Executive
Greater Birmingham Chamber of
Commerce, Paul Faulkner, CEO
North East England Chamber of Commerce,
Rachel Anderson, Assistant Director
North East Process Industry Cluster, Philip
Aldridge, CEO
Thames Estuary Growth Board, Kate
Willard, Thames Estuary Envoy and Chair
South East Local Enterprise Partnership,
Christian Brodie, Chair
Adur and Worthing Business Partnership,
Andrew Wayne, Chair
Visit Greenwich, Barrie Kelly, CEO
Midlands Arts Centre, Sally Pennington,
Head of Development
Birmingham Reperatory Theatre, Rachael
Thomas, Executive Director
Nicander Limited, Derek Lister, Director
Trade Interchange Ltd, Mike Edmunds, Cofounder and Manager
Kraken IM, Ian Cornwell, Director
Bosch Thermotechnology Ltd, Carl Arntzen,
Managing Director
HydraForce Hydraulics Ltd, Christine Tolley,
Head of Human Resources
Salts Healthcare, Lee Cattermole FLPI,
FIToL, Learning & Development Manager
Continental Engineering Services Ltd
(Trading as Zytek Automotive Limited), Neil
Heslington, Managing Director
Alucast, Tony Sartorius, Chairman
Desiblitz, Indi Deol, Director
Bruntwood, Jessica Bowles, Director of
Strategy
Neurolixis Ltd, Adrian Newman-Tancredi,
CEO
Terraprima Group Ltd, Jozef Wallis, CEO
One Big Circle Ltd, Emily Kent, Director
Spark SW (Trading as TechSpark), Ben
Shorrock, Managing Director
Studio Giggle, Jonathan Brigden, Managing
Director
Wriggle Local Limited, Rob Hall, CEO
GarField Microelectronics Ltd, Rod Oldfield,
CEO
Mobius Works Ltd, Lee Bignell, Managing
Director
299 Lighting Ltd, James Pomphrey,
Managing Director
Hyrdrolize Ltd, Andrew Cox, Director
The Real Wrap Co, Phillippe Gill, CoFounder & Operations Director
The Waiting Game Ltd, Tom Pickles,
Director
Rentalist Ltd, Roland Tao, Managing
Director
Bristol & Bath Regional Capital CIC, Colin
Barnes, Housing Specialist
Muscle Rage Ltd, Ken Robson, Managing
Director
Foot Anstey LLP, Nathan Peacey, Partner
Plus X Brighton Ltd, Mat Hunter and Paul
Rostas, Co-CEO
Akro Valve Ltd, Matthew Knight,Managing
Director
Now Charity Group Ltd, Michael Ryan, CEO
Easy Ceiling Technologies Ltd, Elena
Likhodaeva, Director
Curenetics Ltd, Sola Adeleke, Director
Linguisticator Ltd, Aaron Ralby, CEO
Acoustic Associates Sussex Ltd, Peter
Attwood, Managing Director
Gatwick Diamond Business, Jeff Alexander,
Chief Executive
Ricardo PLC, Mike Bell, Group Strategy and
Transformation Director
U9 Group, Carole Barron, Chair
Sock Monkey Studios, Bob Makin, CEO
Ten Feet Tall Ltd, Graham Ramsay
Managing Director