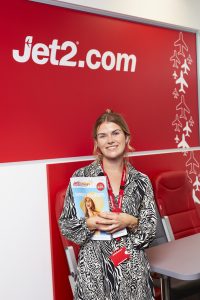 Leeds Beckett University has strengthened its partnership with leading airline Jet2.com with the opening of a new tourism facility.
More than 40 delegates gathered as the first Jet2Suite was unveiled this week in a move which should increase the number of students who go on to work at the leading airline.
International Tourism Management and Responsible Tourism Management students will receive interactive training and seminars in the two brand-new classrooms located at Headingley campus.
The suite contains whiteboards, tv screens and a hall of fame showcasing a series of graduates who have gained employment with Jet2.com after studying at the university.
The launch of the suite follows a long-running partnership between the university and Jet2.com which has already seen more than 90 LBU students go on to work at the airline.
Professor Rhodri Thomas, Dean of the School of Events, Tourism and Hospitality Management, (pictured) said: "Our School is committed to providing high quality research-informed vocational education that is relevant to industry.
"By working with forward-thinking stakeholders like Jet2.com, we want to inspire our students to make a positive difference in the world and to equip them to become the tourism leaders of tomorrow.
"The creation of the suite is a very conspicuous indicator of how closely we work with industry leaders."
Richard Chambers, HR Director of Jet2.com and Jet2holidays, added: "We are extremely pleased to have partnered with Leeds Beckett University and to open the first Jet2Suite.
"With a resounding number of colleagues coming from Leeds Beckett University, it felt like a natural fit.
"We are proud to be working with the school more closely, providing them with a comfortable environment to learn in and develop their skills, whilst showcasing the wide range of career opportunities available at Jet2.com and Jet2holidays after graduation.
"We look forward to seeing the classrooms in action and welcoming many more Leeds Beckett University students in the future."