Developed through more than a decade's research by the University of Hertfordshire, Kaspar is a humanoid robot that acts as a social companion to improve the lives of children with autism and other communication difficulties. By interacting and behaving in a child-like way, Kaspar helps teachers and parents support children with autism to overcome the challenges they face in socialising and communicating with others.
Kaspar can
Act as a social mediator, helping children to better interact and communicate with adults and other children.
Help children to explore basic emotions.
Use a range of simplified facial and body expressions, gestures and speech to interact with children and help break social isolation.
Respond autonomously to touch, using sensors on its cheeks, arms, body, hands and feet, to help children learn about socially acceptable tactile interaction.
Engage in several interactive play scenarios to help children learn fundamental social skills such as imitation and turn-taking – skills that children with autism can find very challenging.
Engage pairs of children to help develop and improve collaboration skills.
Enable cognitive learning by playing games involving personal hygiene or food (Kaspar can hold a comb, toothbrush or spoon).
Engage children in confidence building activities by jointly singing a song or drumming.
Research trials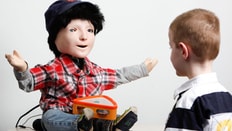 The robot has been developed through more than a decade's research by the University of Hertfordshire's world-renowned Adaptive Systems Research Group, led by Professor of Artificial Intelligence Kerstin Dautenhahn.
Following field trials in schools and family homes, researchers are working to make Kaspar available to every child that needs it. A first-stage trial to evaluate the effectiveness of Kaspar as a clinical intervention for the NHS is due to begin later in 2017.