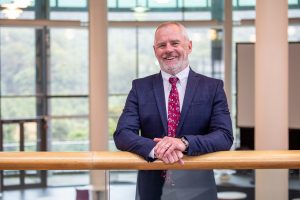 Professor Steve Olivier joined Robert Gordon University in September 2020. He is an experienced leader in the higher education sector, both in the UK and internationally. He has held leadership positions in Scottish, English and South African universities.
Prior to joining RGU, Professor Olivier held the role of Provost and Deputy Vice-Chancellor at the University of the West of Scotland since 2018, where his portfolio involved strategic and operational planning, executive-level leadership of the UWS Deans of School, and oversight of the university's academic and professional services portfolios. He was previously Vice-Principal and Deputy Vice–Chancellor (Academic) at Abertay University.
With more than thirty years' experience of working in universities, Professor Olivier serves on a variety of Scottish and UK-wide higher education bodies and groups. He has delivered many international invited speeches, most notably on change leadership and is an active researcher, publishing widely in applied ethics and sport.
Until recently, he served for several years as a crew member in the Royal National Lifeboat Institution. Outside of work he still surfs, swims, does long solo surfski paddles. He previously competed in many and varied outdoor endurance events, after a long rugby playing and coaching background.
members