Maddalaine's article was commissioned by the British Council for its Going Global publication, Building Nations, Connecting Cultures published in May 2017. Find out more about this publication here.
Introduction
The concept of the 'anchor university' is now well established in the UK. Many universities, particularly those with an explicitly civic mission, recognize themselves as anchor institutions within their town, city, or region. Consequently, they are engaging actively with the government's agenda to rebalance the economy – responding to a concern that the UK was too dependent on the financial services sector and that wealth and power was overly concentrated in the south east of England, around London.
Successive governments have sought to achieve this through two parallel approaches: industrial strategies intended to create the right conditions for a range of sectors to flourish; and the negotiation of 'growth deals' through which power and funding is devolved to the English regions in return for the creation of new structures for accountability such as Combined Authorities and Metro Mayors. The current government has stated its intention to bring these two strands together through building 'place' into its industrial strategy (Clark, 2016).
New impetus has been given to this agenda by the recent vote to leave the European Union, which many have interpreted as a protest vote by those who have experienced the downsides of globalization. Where well-paid and high-status manufacturing jobs have moved overseas, they have often been replaced by jobs in services, many of which offer low pay and low job security for those at the bottom of the employment food chain.
In order to understand better how modern civic universities build stronger communities, we undertook four 'deep dive' studies in different parts of England across four themes: health and wellbeing; reducing inequality; innovation; and skills. Our intention was to demonstrate, through real-world examples, the breadth and nature of the contribution that anchor institutions make to their cities and regions. This could then be used to inform the policy debate about devolution to the English regions, and the proposed reforms to the regulation of higher education and research. We argue that, although universities are often seen as national assets and the policy relating to them decided at a national level, they are nevertheless crucial to successful local growth policy and must be included in these policy discussions.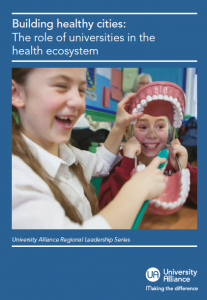 Building healthy cities
We started with the role that universities play in improving health and wellbeing within their cities and regions (Frostick, 2016). This is a central challenge underpinning virtually all areas of public policy. Despite prominent campaigns around smoking, sugar consumption, alcohol abuse, and other high-risk behaviours, rates of preventable illness continue to rise in the UK. We are also living longer, which means that more of us develop long-term physical or mental health problems, adding pressure to overstretched health budgets.
In response, policymakers are having to explore more innovative ways of promoting public health and wellbeing to reduce demand for services and improve people's quality of life. At a city and regional level, improvements to public health are starting to be realized through multi-partner collaborations of the sort found in Bristol in the south west of England.
Our case study on Bristol's health economy or 'ecosystem' showed that, with joint ambition and the right mechanisms, a more integrated approach to health and wellbeing can be effective in meeting local challenges. The city's universities are working closely with others in the region to integrate the health ecosystem through networking and leadership and increasing its responsiveness to the needs of the population. Near the epicentre of these efforts is Bristol Health Partners, a wide-reaching collaboration between local political leaders, two universities, and six health commissioners and providers.
As well as acting in this 'integrator' capacity, universities educate health professionals and scientists and undertake research, innovation, and knowledge exchange with the aim of building healthier communities. The scope of this activity is exceptionally broad, ranging from applied clinical medicine to studies on improving the urban environment through effective planning, to the development of robots that enhance patient care or assist those with permanent health conditions.
The Centre for Innovative Medical Technology at the University of the West of England, for instance, includes an indoor assisted living facility that enables robotics researchers, people with assistive needs, and those supporting them, to work together to devise and test new robotic solutions in a realistic home environment.
Reflecting the cross-cutting nature of health and wellbeing challenges, there is an increasing volume of interdisciplinary research at UK universities. Many institutions also work closely with non-academic partners including businesses, charities, and social enterprises, and provide incubation spaces to help entrepreneurs design products and innovate with the support of specialists.
University-led research and innovation has the added benefit of supporting the region's health services. Clinical research, for example, will often involve observing and trialling treatments with patients in a local hospital. From the perspective of providers and commissioners, this represents an investment additional to that coming directly from government.
Similarly, health academics based at a university are often specialists within a particular field of medicine, surgery, or another health-related discipline. Through what is effectively a joint appointment with a local health provider, their contribution is essential for maintaining the quality of clinical services in the region.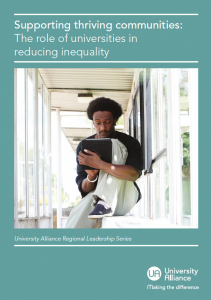 Supporting thriving communities
Our second report looked at the role of universities in reducing inequality in their local communities (Hooper, 2016). Despite efforts by successive governments to improve social mobility in Britain, wealth and opportunity continue to be concentrated within relatively small sections of the population. As well as being socially divisive, this is bad for economic growth and productivity (United Nations, 2013).
Universities are often accused of doing little to tackle this inequality and even of supporting the status quo – particularly where high-tariff institutions recruit from the social elite who go on to gain high-status jobs. It is also true that unequal outcomes persist for graduates from opposite ends of the social spectrum, with those from higher-income backgrounds earning significantly more even after completing the same degree course from the same university. Clearly, universities can't solve the problem alone.
Nevertheless, our research – which looked in particular at the work of three universities in the wider London economic region (University of Greenwich, Kingston University and University of Hertfordshire) – found that universities can play a positive role in supporting social mobility if they make a meaningful strategic commitment and adopt sustained strategies for access, retention, and graduate success in order to reduce inequalities.
London is a prime example of how the proceeds of economic growth are unevenly distributed. Since 2001, London saw some of the strongest growth in gross value added (GVA) per head compared to other UK cities but its progress in reducing poverty was only average. London universities tend to be diverse in terms of their ethnic profile. In each of the three universities we looked at, around half the students identify as coming from an ethnic minority. All three have a long history of supporting widening participation. Although they are engaged in considerable amounts of outreach, given the diversity of their student bodies, they focus less energy on getting disadvantaged students into the university and more on ensuring they can do as well as their peers from more traditional backgrounds. Their approach is led from the very top of the institution with the direct involvement of the vice-chancellor and directors of planning and HR. This is important because it gives others in the institution permission to have difficult conversations about the gaps in achievement and to identify shared objectives and strategies for tackling them.
A second important element to their strategy is working in partnership with other educational institutions, employers, local government, and third sector bodies. The University of Greenwich's partnerships with colleges enable it to create progression routes and to deliver flexible learning for those less able to travel. Kingston University reached more than 14,000 people through information, advice, and guidance workshops for local school and college learners and their parents. The University of Hertfordshire works with every higher education provider in its area as well as with the Local Enterprise Partnership (LEP) (a structure for bringing local authorities and business together) and Veterinary College to run collaborative outreach.
Partnerships can also create new opportunities for students and communities. For example, Kingston University is working with Fulham Football Club to raise awareness of the benefits of higher education to potential students with no family history of going to university. The organizations have since worked together on a number of sport and education initiatives, including linking the football club to the University's state of the art sports science facilities, enabling journalism students to put their reporting skills to the test at under-21 Premier League games and offering internship opportunities for students in fields such as computer science and business and marketing.
A third element is recognizing the importance of role models. All three universities believe they need to increase staff diversity to provide role models for students. The University of Hertfordshire is trialling anonymous recruitment and has introduced a postgraduate scholarship scheme with positive initial results.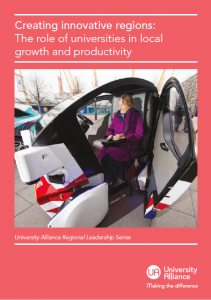 Creating innovative regions
Britain's global competitiveness rests on its capacity to support innovation. There is a high rate of return from spending on innovation. Yet overall investment in R&D as a proportion of GDP remains significantly lower in the UK than other nations in the G7 (Royal Academy of Engineering, 2015).
We looked at the role universities in the English Midlands play in their regional innovation ecosystems with a particular focus on Coventry University, the University of Lincoln, Nottingham Trent University and the Open University (Taylor, 2016). We found that the prime way in which they make a difference is by providing leadership, continuity, and connectivity.
The administrative and economic boundaries for local growth and innovation are particularly complex in the UK context. Universities can play a leadership role both within and across these spatial levels. Vice-chancellors participate in all the LEPs in their area which enables them to link LEPs across neighbouring regions. In many places the sectoral geography does not align neatly with administrative areas. The University of Lincoln works with partners in the food and drink industry from Suffolk and Norfolk in the south of the region, to Hull and the Humber in the north. By contrast, automotive innovation has an east-west geography with supply chains across the whole region. The universities not only connect these ecosystems regionally, but also internationally. The Open University's Regional Analysis Innovation Knowledge and Entrepreneurship Research Exchange (RAIKE) unit links experts on regional transformation and development in the UK, China, and India.
In addition, universities are making significant investments into local innovation infrastructure. The capital investment of Coventry University and the University of Warwick, both situated in the West Midlands, is in the region of £1 billion, ten times the amount the LEP receives. Coventry and the Unipart Group are jointly investing in a £32 million Engineering and Manufacturing Institution, an international centre of engineering and manufacturing excellence that will offer a sustained programme of innovative research activity, teaching and learning, and product development. World-leading research is also attracting investment from overseas and creating trade opportunities.
Anchor universities also act as hubs for networks of people and knowledge, a function that is particularly important for small businesses. For example, Nottingham Trent University is working with other universities in Nottingham and Derby to deliver a LEP-wide innovation scheme. This aims to extend support over three years to nearly 600 enterprises through innovation hubs, which will give small businesses access to university facilities and knowledge exchange activities.
Universities also contribute and channel some of the resources needed for innovation, in particular: knowledge, talent, routes to finance, and space.
Most public economic growth funding in England is now channelled through LEPs. This includes funds attached to the UK Growth and Devolution Deals as well as (at least for the time being) European Structural and Investment Funds. In the years ahead, devolution deals, new combined authorities, and elected mayors will continue to make the regional a key spatial level for innovation policy. This brings potential benefits such as development of innovation support around specific industries and technologies, and strategies for improving human capital for innovation. It also presents risks such as inward looking approaches confined to regional boundaries and over-focus on organizations rather than functions (Cooke, 1992).
As large, stable institutions embedded in their local and regional economy, universities are key to realizing each of these benefits and to helping mitigate the risk factors.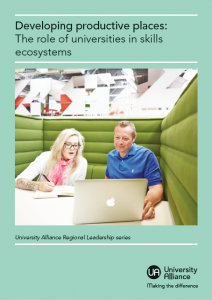 Developing productive places
Our final report looked at how the universities in the Greater Manchester region support the regional skills ecosystem and at the lessons we can learn from this as we move towards greater devolution (Wise, 2016) Greater Manchester, which sits at the heart of the North of England, is growing in terms of both population and economic output, but there are significant challenges. The nascent Greater Manchester combined authority notes that: 'while our economy has grown, our skills base and productivity has not kept pace, and we have not been able to reduce dependency or close the gap between the tax that is generated here and the cost of public services. Our productivity gap is in part due to lower skill levels and lower levels of economic activity than the South East.' (Greater Manchester Combined Authority, 2014).
We looked at the contribution that the city's universities make through seven lenses:
skills-rich courses for diverse students
graduate recruitment
supporting people in the workforce
knowledge exchange
enterprise support and innovation
consultancy and applied research
informal activities such as sharing facilities with the wider community.
We found multiple examples of activity under each of those headings. This suggests that universities are well placed to support the creation of more effective skills ecosystems at a regional level. They can do this, first and foremost, by continuing to provide a pipeline of talent to businesses and organizations in the private, public, and voluntary sectors through educational programmes increasingly focused on high level skills. But crucially, an ecosystem is not just a supply system. Universities also have a key role in working with businesses and organizations to shape the demand for skills, innovating, and rethinking the design of business processes and jobs themselves. This mutual approach has the potential to ensure best utilization of the skills we generate, and best value for the resources invested in that effort.
Because the approach is rooted in partnership, it cannot be imposed or effectively implemented by central government alone. Central government can provide a framework, and key foundations such as national finance and qualifications systems, but devolution is fundamental to its success. At the local level and in the short term, there should be much stronger partnerships between universities and LEPs. All LEPs should carry out skills mapping exercises in their areas in line with national guidance to understand the complexities of skills supply and demand in the context of other factors. In addition, LEPs should strengthen inter-LEP connections and increase university involvement in their governance arrangements.
At the regional level and in the medium term, combined authorities will develop and will begin to take on substantial responsibilities. This is an opportunity to build in an ecosystem approach to skills from the start. As the process of devolution continues, close alignment between combined authorities and LEPs will be crucial. In time, these integrated structures will be important as a foundation for any collaborative activities in the region – for example in creating or accessing new forms of finance for skills. There are numerous possibilities here, and no single approach will be suitable for all regions – but it will be very important for regions to be in a position to grasp the opportunities swiftly, and that has to be thought through now.
At the super-regional level and in the longer term, attention should turn to how different city-regions within wider key agglomerations (e.g. the 'Northern Powerhouse') should both specialize and integrate. The relationship to major infrastructure projects such as high-speed rail links, as well as investment in housing and cultural facilities, all become crucial. The aim must be for high-skill talent accumulation across broad economic regions in all parts of the UK – to help realize the vision of a more balanced national economy.
Conclusion
Each of our deep dives provided a wealth of examples of universities working with partners in their regions to overcome complex challenges. Although we focused on four particular areas, we could have chosen many more. We are currently exploring the role partnerships between universities and arts organizations play in place-making. It would also be interesting to look at their role in improving the built environment, transport infrastructure, and tackling the issues facing refugee populations. It is therefore crucial that as the UK seeks to find its new place in the world and to create a new deal for its own citizens, it involves universities fully in both the development and delivery of new policy.
References
Clark, G (2016) Online.
Cooke, P. (1992) 'Regional Innovation Systems: Competitive Regulation in the New Europe'. Geoforum, 23 (3).
Frostick, T. (2016) Building Healthy Cities: The role of universities in the health ecosystem. University Alliance. Online link
Greater Manchester Combined Authority (2014) A Plan for Growth and Reform in Greater Manchester. Online.
Hooper, D. (2016) Supporting Thriving Communities: The role of universities in reducing inequality. University Alliance. Online link
Royal Academy of Engineering (2015) Investing in Innovation. London: Royal Academy of Engineering.
Taylor, F. (2016) Creating Innovative Regions: The role of universities in local growth and productivity. University Alliance. Online link
United Nations (2013) Inequality Matters: Report of the World Social Situation 2013. New York: United Nations.
Wise, G. (2016) Developing productive places: The role of universities in skills ecosystems. University Alliance. Online link