The Centre of Excellence in Mobile and Emerging Technologies (CEMET) is led by the University of South Wales (USW) and is part funded by the European Regional Development Fund (ERDF) through the Welsh Government. CEMET assists small businesses across Wales to develop cutting-edge technologies and boost productivity. Receiving over £8.9m of funding, the project supports SME's to design and test new mobile and emerging technologies to create products and services for commercial success.
CMET supports Welsh businesses that are seeking to create new products, solutions and services, through bespoke funded collaborative research projects. CMET believes that innovation is a vital part of business growth which is why they use emerging technologies such as Machine Learning, Artificial Intelligence, Internet of Things, Augmented or Mixed Reality and so much more to support businesses to develop and grow through R&D.
CEMET envisage a Wales where businesses continuously innovate, utilising emerging technologies to provide market leading products and services that shape the future. It's their aim to contribute to an environment where the knowledge and capacity to innovate are key business drivers.
The programme is part funded by the European Regional Development Fund (ERDF) through the Welsh Government. ERDF funding aims to strengthen economic and social cohesion in the European Union. 
Case study: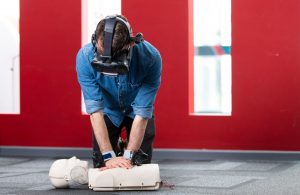 Improving Confidence to Act via an Interactive Training Solution
Can you save a life in 4 minutes? In the case of a sudden cardiac arrest, you have less than 4 minutes to react before brain damage is likely. CPR training company Four Minutes Limited found that although people were undergoing training for CPR, in real situations they didn't feel confident to act.
To solve this problem, they teamed up with CEMET to help create a more interactive training solution that would recreate a real-life scenario with the aim of giving people that confidence to act quickly in an emergency situation.  Four Minutes Limited turned to mixed reality to provide a sensory, immersive experience where the participant witnesses a real emergency situation and can take the necessary steps to save a life.
See more case studies here: https://www.cemet.wales/case-studies