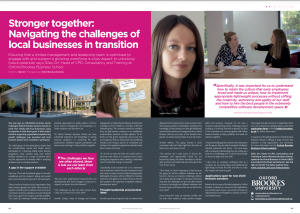 To help meet the challenges of growing high-potential organisations, Oxford Brookes Business School has created a Scale Up Network to enhance and develop the leadership and management capacity of businesses.
While other sources of support currently exist to address growth aspects such as access to finance and improving business operations, a key aspect to unlocking future potential is ensuring that management and leadership can respond to growing or changing workforces.This will be particularly key in the coming months and years as employment continues to be deeply affected by the impact of Covid-19.
More information:
The Network, originally commissioned by the Oxfordshire Local Enterprise Partnership (OxLEP), includes successful and growing scale up leaders who come together to explore common constraint issues, co-create solutions and maximise the impact of potential improvements. They benefit from the knowledge and skills of Oxford Brookes Business School, combined with external, professional, facilitated support over the course of a year.
Each Network has 8-10 business leaders who meet 8 times over the course of a year. The scale up leaders come from organisations that:
● employ between 10 and 30 people and have growth potential ambitions
● are able to demonstrate growth potential within their current business model.
Interest for the original cohort of business pioneers in September 2019 was so high that the network was overwhelmed with over three times the number of required applications. The next cohort of business leaders will begin in autumn 2020.
There are thriving ecosystems within Oxfordshire; a key challenge is to open up the benefits of these ecosystems so that more businesses can benefit from them – both within the county and across the country.
Further detail can be found in a B4 magazine feature on the Scale Up Network.
Powering the UK's future