Chip[s] Board's® philosophy is that a circular economy within waste (by-product) management and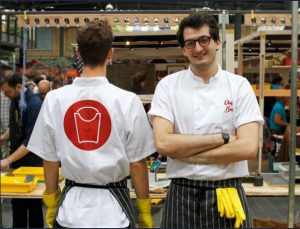 material production will create a new sustainable model, utilising the abundant resources we currently have rather than continuing to process virgin materials.
The business, created by Kingston School of Art design graduates Rowan Minkley and Rob Nicoll, won top honours at the Santander Entrepreneurship Awards, landing £25,000 of seed funding to help grow their operations. Founded as part of their final project when studying at Kingston School of Art, Chip[s] Board® was driven by a desire to create an impactful product from waste materials.
Chip[s] Board® have developed a range of innovative and sustainable circular economy materials using potato waste, and gets its supplies from businesses like McCain who see the appeal of their waste being turned into something highly sustainable.
They have also developed Parblex™ Plastics, a range of translucent pure or fibre reinforced bioplastics with incredible surface finish and durability for fashion and interior design.
In the space of a year, Chip[s] Board® had celebrated its first birthday, completed its first round of investment, and moved into a new home in Shepherds Bush Market which is a space dedicated to bio-based companies. They now have a team which includes abiochemist, polymer chemist and chemical engineer.
Rob and Rowan hope they can make a real impact on the world, and they want Chip[s] Board® to inspire more young people to find creative solutions to issues affecting the world.
Chip[s] Board® has won a Creative Conscience gold award, the July Shell LiveWIRE competition and the product has been exhibited in Los Angeles and featured on a BBC4 TV show.
Since the awards were first launched, Santander Universities has funded more than £420,000 in support for budding student entrepreneurs offering universities the chance to showcase entrepreneurial talent from across the UK. Kingston University has also received more than £500,000 towards various projects including internships, supporting entrepreneurial endeavour around the University and a Hack Centre.
Powering the UK's future