Alliance universities work hand-in-glove with globally-renowned employers across the country to ensure our graduates leave with skills that allow them to step seamlessly into working life. As part of the UA Powering Jobs mini campaign, we're demonstrating how our industry and employer partnerships equip Alliance students for their careers, and to navigate the ever-changing job market.
These partnerships produce graduates that have the skills and knowledge to achieve and add value to industry and the professions; equipped with the skills our economy will need for the future. 90% of Alliance graduates are employed or in further study fifteen months after graduation.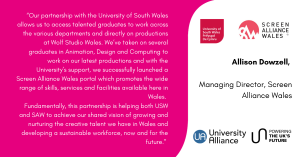 Employer partners like Screen Alliance Wales (pictured above) are what make our member institutions so good at what they do. Find out more about our employer partnerships here.
We are pioneers in working with employers to develop flexible, innovative higher technical provision in key growth areas. We also draw on our strong engagement with employers to boost the skills of the current workforce; combining the very best of work and learning to meet needs through work-based high-level training, Continual Professional Development and modular learning.
As we look to recover from the pandemic, the partnerships underpinning the vocational and technical education at Alliance universities will play a vital role in supporting people to access lifelong learning, re-skilling and up-skilling our current and future workforce.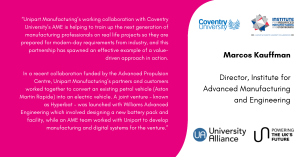 Tackling global e-waste with Network 2 Supply and Coventry University
Institute for Advanced Manufacturing and Engineering at Coventry University