The TUCAN Studio was originally set up in 2017 to support Teesside University students and graduates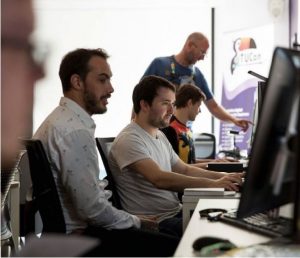 gain experience of working on paid real-life commercial projects, and in particular, to broaden the application of creative digital skills by enabling students and graduates to work with sectors such as health, engineering, and the police.
TUCAN Studio brings multidisciplinary teams of graduates, academic staff, leading researchers and students together to collaborate on creating cutting edge creative digital solutions in the areas of animation, VR training, app development, AR and 360 degree video for
and with industry partners – raising awareness of the possibilities in new sectors while driving innovation.
Working in partnership with the private and public sector, Teesside University's academic staff work alongside graduates to create R&D digital solutions for applications in health, and innovative solutions to training and education for a range of sectors such as the police and fire brigade, plus innovative animation to raise awareness of sensitive health issues.
In partnership with Cleveland Fire Brigade,  TUCAN developed a bespoke virtual reality training module for fire commanders to enhance their life saving skills in the field. Using a combination of fresh graduate talent, academic expertise and cutting-edge technology the University and Cleveland Fire Brigade have now worked together for over four years. The module has become more and more specific and can now take the user to several different firefighting scenarios, adding the complexities of a live scenario.
Powering the UK's future