Outstanding state of the art purpose-built facilities simulating practice environments providing an opportunity to develop clinical skills using the latest technology and equipment in a dedicated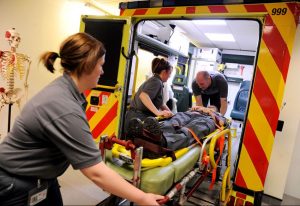 learning environment.
The skills simulation laboratories include a paramedic ambulance, dental clinic, operating theatre and anaesthetic suites, Physiotherapy laboratories, occupational health suite and fully equipped hospital wards.
The medical imaging suite provides for training on the taking of X-ray images and ultrasound images in a safe environment.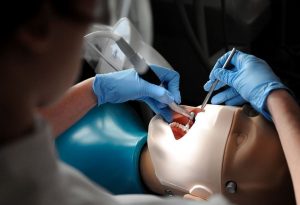 The Dental laboratory houses the state-of-the-art phantom head simulation where students learn the principles and practice of periodontology and restorative skills, focusing on developing essential knowledge and manual dexterity.
The 13 simulated patient phantom heads can be fitted with a wide range of realistic teeth to simulate a variety of dental procedures that need to be managed in practice.
The clinic area is a full simulation of a dental surgery environment for training dental care professionals and support staff. There are 8 bays, each equipped with a KAVO dental chair and computer with R4 patient record software.
Also available is a physiotherapy and biomechanics laboratories and an environmental chamber.