Birmingham City University plan to re-house their STEAMhouse project in a disused landmark in the city, refurbishing the building ready to be opened in 2022.
THE STEAMHOUSE BUILDING
Opening early 2022, at c.100,000 square feet, the STEAMhouse building boasts five storeys of state-of-the-art facilities delivering office space and business support activities to a community of small to mid-sized enterprises and larger businesses and organisations.
Originally built in 1899 as the headquarters of the Eccles Rubber and Cycle Company, in later years the Belmont Works factory accommodated the production of linen clothing, bedsteads and pianos. Following substantial fire damage in 2007, the building lay derelict for a number of years.
Creating the future
Now undergoing extensive redevelopment to house our collaborative community and business growth activities, STEAMhouse is proud to be breathing new life back into the Belmont Works factory.
A hive of collaborative activity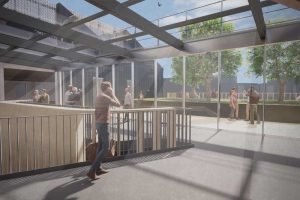 4TH FLOOR
This floor offers unique and flexible Office Space which can be leased by one or two large businesses. Floor four offers panoramic views over the city and a large roof terrace that brings an additional leisure and entertainment dimension to this space.
3RD FLOOR
Floor three is dedicated to the development of future business talent. It will house STEAM learning, training and teaching facilities, designed specifically to enable the application of STEAM thinking to business studies, planning and activities.
2ND FLOOR
Home to Office Space for small and mid-sized businesses, and industry sponsored research and development. STEAMhouse research activities nurture idea creation through collaborations with academics and businesses of all sizes.
1ST FLOOR
This floor comprises the STEAMhouse Incubator and Digital Innovation Hub and enables opportunities for learning, growth and collaboration for entrepreneurs and start-up businesses.
Shared office space and facilities are available to start-up and small businesses enabling them to have a base to work from efficiently, and network effectively.
GROUND FLOOR
Enter the building into a large reception area and cafe, a triple height atrium and exhibition space/gallery.
The Ground Floor also contains dedicated facilities for STEAM learning, prototyping, and coworking, and will also house workshops, events and production space.
ACQUIRE UNIQUE OFFICE SPACE
Would you like to discover more? You can download a STEAMhouse Space brochure and request a tour of the unique Office Space available to large businesses and organisations, and small to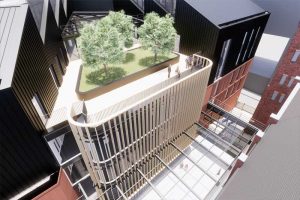 mid-sized enterprises.
The STEAMhouse building services its Community with:
Office Space for large businesses and organisations, and small to mid-sized enterprises
State-of-the-art production space and workshops (including full digital suite and XR studio)
Creative project space,
STEAMhouse Incubator and support activities for entrepreneurs and start-ups
Co-working space
Meeting rooms
Event space
Learning space
Space to socialise and network
A large garden terrace
Central café
On-site security
Next-generation WiFi with hyper-fast internet connection
Collaboration and business innovation
A key benefit and differentiator of the STEAMhouse building is that it has been created specifically to encourage and enable collaborations with likeminded businesses, entrepreneurs, academics, designers and makers both within the STEAMhouse Community and beyond. It's aim is to help drive innovation and develop new ideas and solutions for business and societal challenges and opportunities.
Our Community and guests join together to share good practice, develop new talent and stimulate new ideas. We bring those new ideas to fruition with the support of state-of the art facilities, workshops and on-site specialists and practitioners.
The creative project space, production space and learning space within the STEAMhouse building are all linked with collaboration in mind and are social spaces that focus on bringing our Community together. In addition, the building also offers a central café, meeting rooms, event and Office Space, all with connectivity to our hyperfast internet.
"The new STEAMhouse development is a building inspired by Arts and STEM, where the past meets the future, in which connectivity and collaboration are built into the heart of the design to support, empower and inspire every user to respond to a need in a superbly equipped, professional and inviting environment."
Joanna Birch, Director, Innovation Enterprise and Employability, Birmingham City University
Digital connectivity and 5G
Birmingham is a leading force in technology. At STEAMhouse, it's not enough to 'keep up' with the latest IT systems. Instead, we're proud to play an active part in driving the digital infrastructure forward as we help to develop ground-breaking technology for the future.
Powered by Birmingham City University, the STEAMhouse building incorporates state-of -the-art IT facilities including a high-speed network underpinning both business and building systems; supporting maker and incubation spaces, as well as the host of research and innovative activities that the new building is home to.
Over the past decade and more, Birmingham City University has been developing integrations between its IT systems to enable an integrated approach to managing its future estate and continually improving operations, including gaining insights from the systems hosted to provide a comfortable environment for building users.
Businesses can simply bring their devices, plug in and go, benefiting from secure unlimited WiFi for them and their guests across meeting rooms, conference facilities, breakout rooms and the cafe. They will also benefit from the deployment of 5G, as well as its role within the growth of the Internet of Things.
Birmingham City University is an active partner in the development of applications of this new technology with the West Midlands Combined Authority, and with the STEAMhouse building situated within the city centre, it is well placed to benefit.
"Businesses can simply bring their devices, plug in and go, benefiting from secure unlimited WiFi for them and their guests across meeting rooms, conference facilities, breakout rooms and the cafe. They will also benefit from the deployment of 5G, as well as its role within the growth of the Internet of Things."
Nick Moore, Director of IT and Digital, Birmingham City University
Built with diversity, accessibility and sustainability in mind from planning to execution, the STEAMhouse building offers easy access to:
A fully accessible reception space
Five lifts throughout the building
Ample toilets in each area of the building, including several self-contained, accessible toilet cubicles with integrated hand wash facilities
Multiple shower rooms with changing facilities located across the five floors of the new build section of STEAMhouse
Forty cycle spaces, as well as eight foldable cycle spaces, located undercover and accessed via a secured gateway
Car parking available in the nearby Millennium Point Car Park, across the road from the STEAMhouse building
Vehicular drop-off point within Arrival Square, approximately 25m from the STEAMhouse office entrance
Putting the environment first
STEAMhouse commits to minimising waste and energy consumption, and to using resources efficiently and in accordance with BCC priorities, contributing towards Birmingham's Clean Air Zone. This includes:
Measuring and reducing carbon footprint – being aware of impacts on carbon emissions, including the indirect carbon used in manufacturing processes and the direct impact of operations and logistics. (The overall development, refurbishment and new extension aspires to achieve a 5% reduction in CO2 emissions compared to a new building compliant with Building Regulations.)
Eliminating unnecessary waste by adopting a "reduce, reuse, recycle" philosophy
Being a good neighbour, minimising negative local impacts (e.g. noise, air quality), and improving green areas (e.g. biodiversity, visual attractiveness)
Protecting the environment and minimising adverse impacts
Implementing targets for the reduction of electricity, gas and water consumption, as well as a percentage use of renewable energy
Achieving a minimum of 'Very Good' BREEAM rating and an EPC rating of 'B'