The Brighton Waste House: a building constructed using over 85% waste material and a living laboratory for ecological architectural design.
Available for booking and visits at the University of Brighton's City Campus, the Brighton Waste House is used day-to-day by university staff and students, and demonstrates numerous principles of sustainable architecture and design.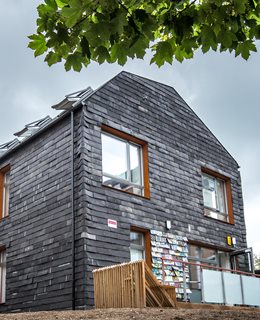 The Brighton Waste House project has investigated strategies for constructing a contemporary, low energy,  permanent building using over 85 per cent waste material drawn from household and construction sites. The building is Europe's first permanent public building made almost entirely from material thrown away or not wanted. It is also an EPC 'A' rated low energy building.
It aims to prove that under valued, so-called 'waste' material has potential to become a valuable resource and therefore prove that there is no such thing as waste, just stuff in the wrong place.
It also aims to prove that a contemporary, innovative, low energy building can be constructed almost entirely by young people studying construction trades, architecture & design. To this end over 300 students worked on the project, which was initially fabricated in the workshops of City College Brighton and Hove, and then assembled and completed by students and apprentices between May 2013 and April 2014. While being constructed, over 750 school pupils from over 35 local primary, secondary and tertiary colleges visited the Brighton Waste House site to learn about sustainable values and practices.
Designing and building the Brighton Waste House
The project was created in partnership with waste reusage expert Cat Fletcher and her Freegle organisation, Mears Group housing and social care provider, Greater Brighton Metropolitan College [formerly City College] and a range of specialists and waste-concern enterprises.
This living laboratory uncovered numerous problematic practices leading to wastage. For example the old vinyl banners that you might see tied to street lamps during festivals  tend to be date sensitive and are therefore only used once. At the Brighton Waste House, these are now being used as internal vapour control layers. Old toothbrushes are also being used in the wall cavities, including over 20,000 of them that have only been used once by business class and first class passenger flying from Gatwick.
Other materials were taken from construction project discards, including thrown-away bricks, ply sheets and off-cut timber, as well as domestic rubbish including old plastic razors, denim jeans, DVDs and video cassettes, that were slotted into wall cavities to help with insulation in the house. These were then monitored to see how efficient their insulation qualities are, bringing scientist postgraduate research students into the research team.
Ten tonnes of chalk waste and 10 per cent clay create a rammed chalk wall, with the help from a compressor and pneumatic rammer. Rammed earth can contribute to the overall energy-efficiency of buildings. The density, thickness and thermal conductivity of rammed earth make it a particularly suitable material for storing passive solar energy as well as that given off by occupants of the building. Warmth takes almost 12 hours to work its way through a wall 35 centimetres thick.
The Brighton Waste House's supporters and users
The Brighton Waste House engaged the community by working with City College Brighton and Hove, and Mears Group, allowing students and apprentices a chance to work on a live construction project. It is now being used by colleagues delivering courses at the University of Brighton, including the MA in Sustainable Design, whose work involves completing and updating the live research project that is the Brighton Waste House. Many of the schools that visited the construction site now take part in creative workshops, seminars and events held at the Brighton Waste House, hosted or curated by artists, makers, designers, scientists, building contractors, or whoever wants to be involved in testing ideas around sustainable design.
The Brighton Waste House has benefitted from the support of Brighton's Green MP, Caroline Lucas, who laid the foundation stone, and is closely linked with Brighton and Hove City Council, alongside construction and cultural organisations. Its university location is fitting since, on the date of completion (2013) Brighton was ranked fifth out of 143 higher education institutions in the 2013 People & Planet's Green League Table and seen 'to be among the pioneers leading the HE sector's transition to a low-carbon future.' The university continues its commitment to progress with sustainable practices and research into sustainable living.