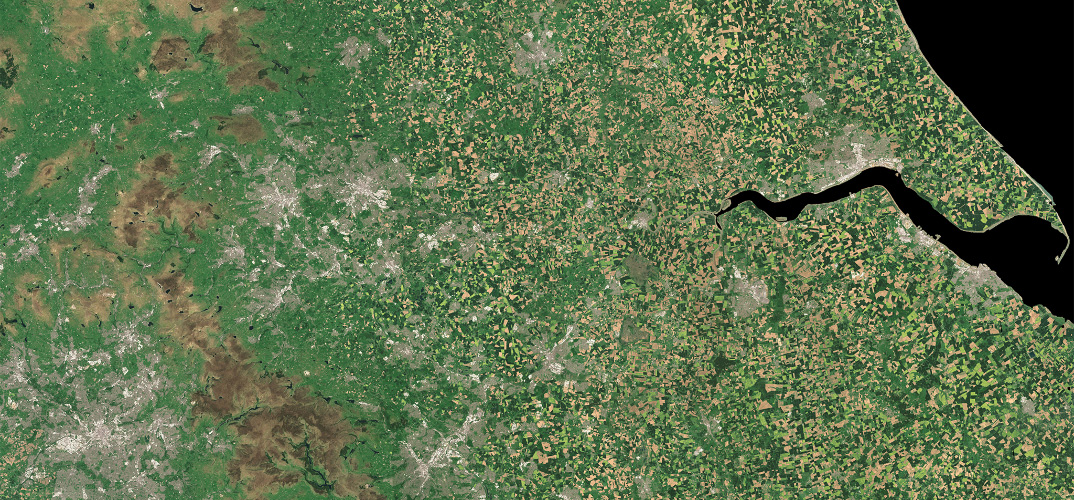 The University of Hertfordshire's Centre for Astrophysics Research was been awarded £200,000 in funding from the Science and Technology Facilities Council to develop and bring to market its ClearSky technology in partnership with Agrimetrics, who operate a Data Marketplace for the Agri-food sector.
ClearSky uses advanced technology to see through cloud cover and predict visible and infrared images of the Earth's surface, through applying artificial intelligence to synthetic aperture radar imaging obtained by the EU Sentinel-1 Earth Observation satellites.
In partnership with Agrimetrics, the University of Hertfordshire project provides weekly cloud-free surveillance of the entirety of the UK. The surveillance provides rolling intelligence to the agricultural industry on issues such as the health and growth rates of crops, enabling the sector to make potential cost savings, reduce emissions and improve food security.
The University of Hertfordshire team also uses ClearSky to further investigate the impact of climate change on different crops across the UK, providing further intelligence and insights to the UK agriculture market.
Following roll-out in the UK market, the team plan to scale-up the project to provide worldwide coverage, seeking new applications of the technology for the monitoring and prediction of environmental threats such as flooding and wildfire.
Professor Jim Geach, Centre for Astrophysics Research, University of Hertfordshire, commented: "Astrophysics is the ultimate remote sensing challenge. Here we are applying some of our expertise in analysing and interpreting imaging data across the electromagnetic spectrum to the field of Earth Observation, with a little help from AI. With ClearSky we are hoping to further exploit the great potential of synthetic aperture radar imaging of the ground, and in this project our focus is on supplying intelligence to the agricultural industry. We will provide a week-by-week analysis of every single field in the UK, uninterrupted by cloud."
Dr. Matthew Smith, chief product officer, Agrimetrics, explains: "There is demand for accurate information derived from satellites across the agri-food sector, which offers the advantages of extensive coverage in space and time and without expensive in-field monitoring. 'ClearSky' promises a level-up in accuracy, by providing cloud-free information. We're super excited to enable the ClearSky team to deliver that information to their end-consumers though our Data Marketplace, which is what it's been made for."
The Science and Technology Facilities Council funding is part of its Challenge Led Applied Systems Programme (CLASP), a scheme to support the application and commercialisation of STFC research.
Dr Wendy Carr, senior portfolio manager for CLASP, Science and Technology Facilities Council, said: "It is very exciting to see this project benefiting from support from the CLASP programme. Our aim is always to take the scientific breakthroughs coming out of the STFC research facilities and find ways to have them make a difference outside the lab. We look forward to seeing how the ClearSky team can bring benefits to the agriculture sector in the UK."