The School of Nursing and Midwifery at the University of Derby offers high-quality education from Nursing Associate degrees and Advanced Clinical Practitioner apprenticeships to a range of undergraduate and postgraduate Nursing and Midwifery degrees and continuing professional development. We are proud to offer opportunities for all, at a University recognised for its commitment to social mobility (UK Social Mobility Awards 2020).
Thanks to our close relationships with local NHS Trusts, private and independent organisations, we have an excellent employability record; 99% of our graduates from Adult Nursing and Nursing Associate courses were in professional occupations 15 months after completing their course (Guardian University Guide 2023).
We were the first higher education institution to become a member of the Florence Nightingale Foundation Academy. The Foundation focuses on improving health, clinical outcomes and patient experience, through building nursing and midwifery leadership capacity and capability. This aligns closely with our own ethos and ambition to build and develop an effective health and social care workforce, transforming the roles of health and social care professionals.
Teaching excellence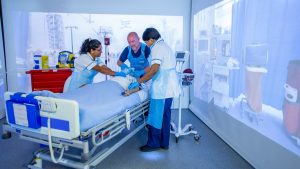 Our passionate teaching staff are all excellent educators who have practised as nurses and midwives with many still working in the profession. They bring relevant experience and valuable insight to their roles nurturing the next generation of professionals. Several have been awarded Queen's Nurse status, available to individual nurses who have demonstrated a high level of commitment to patient care and nursing practice.
They are carrying out research that will support the health workforce of the future, including studies into the use of simulation to support our learners.
Facilities
Nursing is taught at our main site in Derby and also in Chesterfield. Our Midwifery students are based in Derby.
Both sites offer state-of-the-art facilities, including:
NHS-Standard Mock Hospital Ward
The six-bed ward gives our student nurses a taste of working in a modern hospital before they start their first placements. It features a range of equipment to help them build confidence and become familiar with the working environment – they include a nurses' station, patient bathroom, mobility equipment and patient mannequins.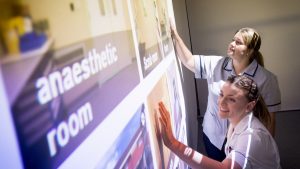 Immersive Interactive Simulation Suite
This hi-tech teaching facility provides a creative multi-sensory learning space. It combines innovative technology, virtual reality, interactive 3D graphics and audio content to simulate real-life scenarios such as a busy hospital ward, the back of an ambulance, a night club incident – anywhere where nurses are needed to provide care.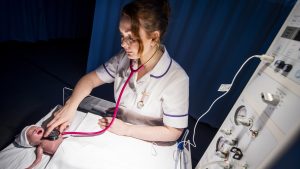 Mock labour room
Our Midwifery students on our Derby Campus can practise their skills in the mock labour room which features a range of equipment including a birthing pool, birthing mannequins and resuscitaire for resuscitating newborn babies. It helps students build confidence in dealing with complex situations at the threshold of life.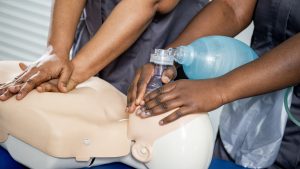 Artificial patients
We use high-quality artificial patients for realistic medical training. They include:
Sim Man and Sim Baby; portable patient simulators with realistic anatomy and clinical functioning
Nursing Anne; for training in women's health, obstetrics and more
A range of resus and CPR mannequins