The researchers on the DTA Applied Biosciences for Health programme are using their research to understand and combat a wide range of diseases and health conditions. At their recent summer school they illustrated this breadth in a competition to  capture their research in just a single image. All those who attended, voted for their favourite entrant. Scroll down to see all the entries and find out the winner.
Fluorescent Probe to Track Anticancer Activity in Broccoli
Andrei Albulescu, Liverpool John Moores University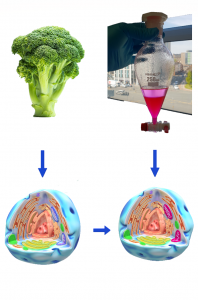 My project aimed at synthesising and using a variety of chemical probes to investigate the activity of sulforaphane, the main anticancer compound in broccoli. One of these probes uses rhodamine to create a brilliant pink compound, whose fluorescence should help identify key biological interactions of sulforaphane.
Our Microbes and Us
James Robson, University of the West of England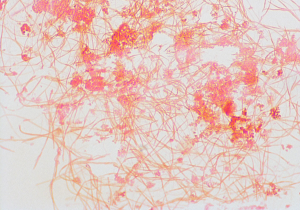 Trillions of bacteria inhabit our GI tract, exerting beneficial and harmful effects. This image shows Fusobacterium nucleatum (the thin strands) growing around mucin (the dark globules) at the air liquid interface in a drip flow reactor model. When F. nucleatum penetrates the protective mucus layer and reaches the underlying epithelial cells, it promotes tumour development and progression. My research focuses on the effect of such bacteria on the growth of tumors.
Judges Choice Runner Up: Smiling in the Face of Adversity
Liana Gynn, University of the West of England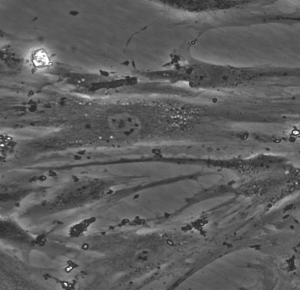 My research is focused on understanding the interactions of cells of the bone marrow in haematological malignancy, with particular interest in leukaemia. Supportive bone marrow stromal cells are known to protect leukaemic cells from chemotherapy toxicity. This image shows a mesenchymal stromal cell from a patient with the malignant condition, myeloma. This smiling cell represents how both patients receiving treatment and myself researching their disease, smile in the face of adversity.
Physiological and Thermoregulatory Demands of Fencing
Luke Oates, University of Hertfordshire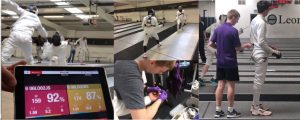 These photographs were taken during two simulated fencing competitions I set up. I used an athlete tracking system (left) to quantify the heart rate response, and movement demands of fencing e.g. distance covered, speed of movement, accelerations etc., a portable gas analyser (top middle) to determine how much air they breathed in and out and therefore how much energy they expended, wireless skin thermistors to measure the aesthetes' skin temperature, an indigestible pill to measure their core temperature and  took capillary blood samples to understand the metabolism used.
A Sunny Day on Teesside
Kirsti Loughran, Teesside University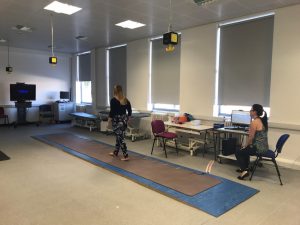 This image shows me analysing the gait of people with Chronic Obstructive Pulmonary Disease (COPD), under a dual task condition.
Exercise in a Man's World
Emma Cowley, Liverpool John Moores University
80% of teenage girls aren't active enough. There are 0 women coaching the top American football, basketball or baseball teams. There is a salary difference of $150,000 for athletes/ coaches. Only 3% of all sports stories are written about women, with most of this 3% accompanied by bikini clad pictures of female athletes in a sexually suggestive position. Imagine if girls had more opportunities in sport and exercise, had equal pay, had the same training/ nutrition/ psychological support males do. Imagine they were told that sweating and being red-faced and out of breath was inspiring and strong or that being resilient, determined and strong did not diminish their femininity. To improve the health of young girls globally we need more female role models to look up to and to encourage the future female generation to get moving.
Organisation=Efficiency, right?
Awais Younis, Nottingham Trent University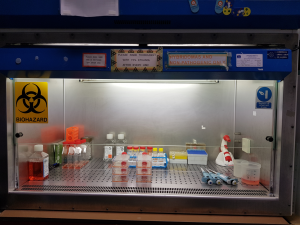 Exploring the Outdoors while Living with Dementia
Molly Browne, Coventry University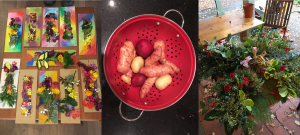 People living with dementia often experience what is termed 'a shrinking world'. As the disease progresses and symptoms worsen, many people experience a loss of independence and the ability to continue their hobbies, interests and activities of daily living without support. My research is aimed at engaging people living with dementia in multi-sensory outdoor and nature-based activities. I believe such activities, and time spent in outdoor environments can improve the physical and mental well-being of those living with dementia and enhance quality of life.
Limiting the Dietary Ingestion of LOPs in Humans
Gilbert Ampem, Kingston University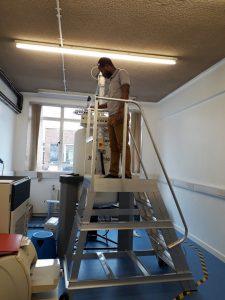 The objective of my project is to improve our understanding of the molecular nature, the pattern of evolution and concentrations of Lipid Oxidation Projects, which offer significant threats to human. I am using NMR-linked chemometrics and computational intelligence technique (CIT) strategies to recognise molecular 'patterns' of toxic LOPs generated in lipids and developing and testing ways to suppress such lipid oxidation.
What Mental Health Means to Me
Matthew Hibbert, Liverpool John Moores University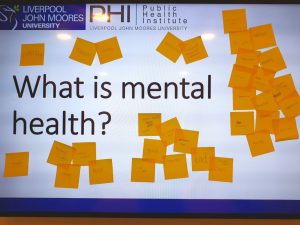 Being part of the Brilliant Club allows me to teach my PhD to Y9-Y10 students. I asked them to think of three words they think of when they hear mental health and this is the result.
Sphere-Heading the Study of Alzheimer's Disease
Alysha Burrows, Manchester Metropolitan University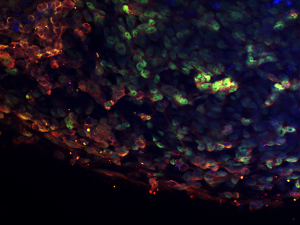 Induced pluripotent stem cells containing the familial Alzheimer's disease causing mutation PSEN1 A246E were differentiated to form neural stem cells and then cultured in suspension as neurospheres. Neurospheres were stained for the scaffold protein p62, the neural stem cell marker SOX2 and the nuclear marker DAPI.
Improving the Health of Older People through Green Infrastructure (GI)
Louise Mitchell, University of Salford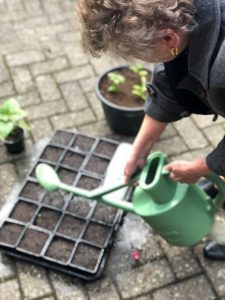 The world's population is increasing at a rapid pace, as is urbanisation, putting pressure o healthcare resources. One way to alleviate this is through the construction of Green Infrastructure (GI) such as care farms and community gardens. By engaging people with their natural environment, these projects simulate benefits. My PhD is evaluating impact these spaces have on the physical, mental and social health of the older participants who use them.
The Gut Microbiome and Healthy Ageing
Cristiano Pedroso-Roussado, University of Brighton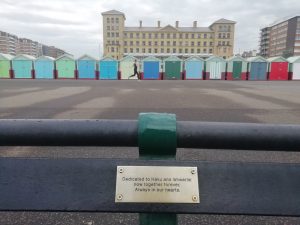 Recent studies have highlighted that the gut mycobiome is much more diverse and abundant than previously thought, and there is increasing evidence of significant roles that fungi play in host homeostasis, and of their interactions with gut bacteria. My project aims to search for longevity signatures in the gut fungal microbiome (mycobiome) by identifying and characterising the probiotic potential of fungal isolates collected from a range of volunteers. I will then assess the interactions of selected gut fungi with the whole microbiome by developing an in vitro human gut model
People's Choice Runner-up: Skeletal Muscle Hypertrophy and Regeneration
Mark Viggars, Liverpool John Moores University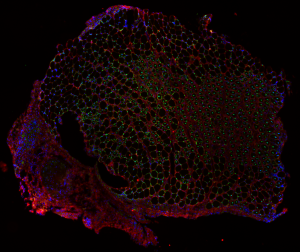 Skeletal muscle is the most abundant tissue for all mammals and is responsible for movement, energy and metabolism. The size of skeletal muscle can be controlled by both diet and physical activity through up/downregulation of protein synthesis/degradation. Mechanical loading produced during resistance training exercise produces signalling cascades allowing for muscle to hypertrophy. During periods of inactivity/unloading, muscle atrophies which can have severe consequences for health and mobility. My PhD aims to understand how these mechanical signals are transduced into biochemical signals that cause muscle to grow and how other cell types aid growth or regeneration.
Training your brain to live better with persistent pain
Andy Graham, Teesside University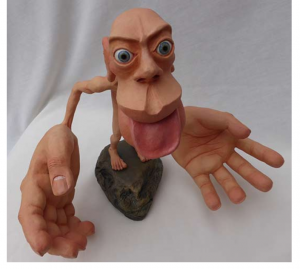 My PhD is aimed at rewiring the brain of amputees and other people living with persistent pain. It involves re-learning to feel and locate sensation accurately in your painful area. As a person becomes more attuned to their painful body part, they alter their mental body image – improving the match between the mental body image and the physical body part. The 'magic' is thought to occur in the Sensory Homunculus, sometimes referred to as the "little man inside the brain" (pictured above).
3D bodies: The future of body image research
Sophie Mohamed, University of Lincoln

Early research on male body image has found inconsistent findings, and scales used to measure estimations of body size and shape in men tend to rely on poor imagery and lack ecological validity. In response, my research uses 3D computer-generated images and 3D body scans to investigate perceptual body image in men, including visual perceptions of body size and categorical judgements of body weight. This has implications in research and health contexts, in the development of more realistic scales for body image research and clinical interventions to help men with eating disorders, obesity and other related concerns.
Winner: VULNERABLE LIKE WHO?
Giorgia Vaccaro, University of Hertfordshire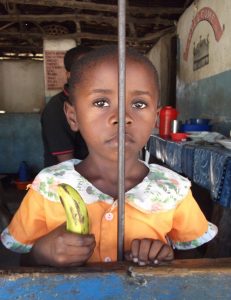 This photo shows a child behind a bar representing the inner innocence of drug addicted prisoners, prompting us to look beyond their current state and what crimes they have committed, reminding us that we were all once children. In the UK prisons the use of 'New Psychoactive Substances' (NPS), mainly synthetic cannabinoids, is a cause of major concern as it is associated with violence, organised crime bullying and debt. Despite the development of new analytical technologies, the detection of NPS is still a very challenging task. In this framework my research through the use of Raman spectroscopy, aims to enhance the in-field detection of NPS. Enhancing the detection of these substances smuggled into prisons will have positive impact in the daily issues faced by prison and NHS staff in managing emergencies related to the use of NPS as well as improvement in the well-being and quality of life of prisoners.
The Effect of K,7 Channel Modulation on Motility in the Murine Colon
Abdul-Azim Hassan, The University of Hertfordshire