UWE, Bristol- Eliminating malaria by strengthening health programme management in South-East Asia and Southern Africa
Every year some half a million people die from malaria, a disease which exists in nearly 100 countries. Focus for enhanced malaria programme performance is often placed on the technical challenges, while human and organizational factors are often overlooked. Research conducted by Peter Case, Professor of Organization Studies at the University of the West of England, Bristol, has focused on improving programme management and service delivery at the operational level of malaria healthcare. Funded by the Bill and Melinda Gates Foundation and the US Navy Malaria Research Centre the research demonstrated how organisational systems in malaria zones can more effectively manage transitions from malaria control to elimination. The research has culminated in the Organization Development for Malaria Elimination tool that uses a new participatory approach for tackling malaria. The tool has been implemented in Vietnam, Zimbabwe, Eswatini and Namibia, leading to significant improvements in programme delivery, including data quality and communication, as well as fewer drug stock-out events. These programme delivery improvements have subsequently led to improved detection, testing and treatment of more than 3 million people with malaria in Zimbabwe alone. Additional benefits, such as capacity building of healthcare professionals and development of accredited training of National Malaria Control Programme staff, have also accrued, creating sustainable impacts in these regions.
University of Hertfordshire- informing global responses to chemical weapons incidents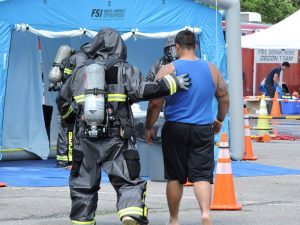 The work of the University of Hertfordshire's Toxicology research group has directly protected civilians from the effects of chemical weapons incidents. Amid rising terror threat levels in the UK and the US, the research group was asked by the US Department of Health and Human Services to investigate decontamination processes. Hertfordshire invested in large-scale testing facilities to  allow researchers to simulate human exposure to hazardous substances and to evaluate mass casualty decontamination outcomes. The research resulted in the development of new policy guidance for emergency response teams dealing with the event of chemical or biological attacks being adopted by both the US and UK Governments. The guidance was followed as part of the UK emergency services response to the Salisbury attack in March 2018.
Teesside University- protecting users from counterfeit medicinal products.
Research at Teesside University has led on the fight against fraudulent medicines, preventing harm to users and influencing policy which has directly shaped transnational law enforcement practices. Research originating from the EU funded FAKECARE project undertaken by Teesside University led to the development of FAST ('FAKECARE Alert System Tool'), a software tool for the automatic identification and classification of illegal pharmacies- online malicious websites that prey on vulnerable people with the promise of cheap medicines. FAST uses a sophisticated algorithm and rapid method to identify illegal online pharmacies, discouraging visitors from buying pharmaceuticals online and providing valuable information for Interpol and other national bodies in identifying and classifying illegal activity. The research has also given rise to essential guidelines that assist agencies in tackling the online trade of falsified medicinal products. The international peace-seeking Chirac Foundation now considers FAKECARE – which has yielded game-changing counteractive measures that have reverberated across Europe – to be among the five most important projects of its type in the world.
University of Greenwich Natural Resources Institute (NRI)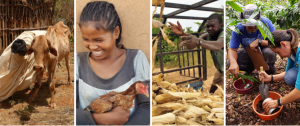 The NRI is a specialist research, development and education organisation of the University of Greenwich, with a focus on food, agriculture, environment and sustainable livelihoods. Together with their international partners such as UNESCO and the Gatsby Foundation, they tackle issues including poverty, food and nutrition security, sustainable agriculture, climate change, gender and social equality, responsible production and consumption, exploitation of natural resources and environmental management. Their work has been highly commended. NRI's recent awards include two Queen's Anniversary Prizes for Further and Higher Education, the Times Higher Award for International Collaboration in 2014, and the Guardian University Award for Research Impact in 2015.