University of South Wales- Working with Tata Steel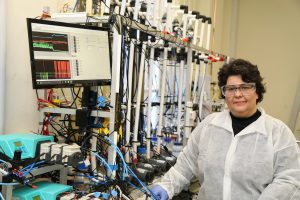 The University of South Wales is working with industry giant Tata Steel to help them reduce their energy use and make their business more environmentally and economically sustainable. The University has researched and helped implement a system which takes hydrogen gas produced using electricity and waste carbon dioxide and uses a biological system to create methane gas. This energy can then be put back into the grid, using renewable energy generators. Recycling just 10% of the carbon released by energy and industrial companies each year in this way could represent a saving of £1 billion a year. Marc Chicuta, Director or Product and Process Development, Tata Steel said "Using the wealth of ability within the University of South Wales, we're able to more than we could on our own and develop new processes and products much more efficiently."
Anglia Ruskin University (ARU)- Policing institute of the Eastern Region
Created in 2016, The Policing Institute for the Eastern Region (PIER) at ARU delivers innovative, high quality research, professional development and knowledge exchange for the improvement of priority areas of policing in the Eastern Region and beyond. PIER works collaboratively and flexibly with a wide range of partners nationally and regionally to respond to evolving external challenges. The Policing Institute of the Eastern Region conducted research examining the effectiveness of risk management practices for registered sex offenders in the community, including the first national evaluation of the Active Risk Management System (ARMS). This research has resulted in key changes to policy and practice in all 43 police forces and all seven divisions of the National Probation Service (NPS) in England and Wales; leading to increased efficiency for front-line probation practitioners and savings of approximately £1,218,662 per year for the NPS.
Birmingham City University collaborate with local and global partners to solve environmental challenges
Partnering with institutions and businesses around the world, academics from a wide range of disciplines across the universitiy are leading multiple collaborative projects to improve the environment and create more sustainable structures, cities and more. One project – SATURN- supported by the European Institute of Innovation and Technology's climate knowledge and innovation community – will involve more than 50 stakeholders from a variety of sectors. The University will create regional design schemes for the West Midlands, ensuring more sustainable planning, better biomass production and more.
The University of Hertfordshire's Science Partnership is a unique collaboration between the University and the Local Enterprise Partnership (LEP) with a focus towards supporting small and medium-sized enterprises' (SMEs). It leverages the state-of-the-art facilities and academic expertise at the University to boost the dynamic agritechnology and life sciences sector in Hertfordshire while providing a strong pipeline of applied scientists for the region through a translational Doctoral Training Centre.
Teesside University (TU) working with regional partners to develop a low carbon economy
In the Tees Valley, the development of the low carbon economy offers a major economic and environmental opportunity. TU, along with its industrial partners, is committed to using the wealth of skills and expertise in the region's process industries to build a low carbon economy that delivers economic, social and environmental benefits for all. The Tees Valley South Tees Development Corporation site (STDC), the largest development site outside of London, is a critical component of the region's economic strategy. Teesside University's Net Zero Industry Innovation Centre, now under development with industry partners and TVCA, is part of this strategy. Focused on technological research, development, demonstration and transfer, the Centre will kick-start commercial industrial decarbonisation, hydrogen and circular economy activity in the Tees Valley, providing space for industrial development and R&D activity, helping to attract inward investment into the STDC Site.
Coventry University tackling the global electronic waste challenge
Over 50 million tonnes of electronic waste (e-waste) is generated globally each year with most of it being shipped overseas or ending up in landfill or being incinerated.
The recycling of printed circuit boards found in most e-waste comes with a large carbon footprint and incineration often results in a loss of precious metal and the release of dangerous toxins. These toxins seep in to groundwater, soil and air, affecting the environment and those surrounding it.
Coventry University's Associate Professor Sebastien Farnaud, has partnered with Network 2 Supply (N2S), a leader in IT lifecycle services to develop Bioleaching, a technique that uses bacteria to safely extract and recycle precious metals from electronic waste.
Together, they are winning international acclaim for their response to the e-waste challenge.