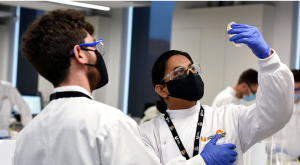 News that a COVID-19 vaccine is set to be manufactured on Teesside has been welcomed by the National Horizons Centre which will provide vital training to the vaccine manufacturing workforce.
Sixty-million doses of the Novavax vaccine are set to be manufactured in Stockton-on-Tees by FUJIFILM Diosynth Biotechnologies (FDB) with the National Horizons Centre to play a major role developing the skills capacity within the region to meet this demand. Novavax showed an 89% efficacy in fighting COVID-19.
The National Horizons Centre, a £22.3 million national centre of excellence for the bioscience industries already enjoys a fruitful collaboration with manufacturers FDB.
The centre, which is based at Teesside University's Central Park campus in Darlington, has already developed a bespoke training course for FDB staff looking at the latest development in biologics and imparting the necessary skills to carry out process development and manufacturing of vaccines.
Alongside, the Centre for Process Innovation (CPI), the National Horizons Centre has also partnered with FDB in the Northern Bio-accelerator Partnership which aims to accelerate the development of a North-East bioprocessing, biomanufacturing and biopharmaceutical hub and will position the region as a centre of innovation, attracting investment, enhanced education and workforce development, and ultimately enabling more companies to bring life changing medicines to market faster.
The National Horizons Centre is also exploring more ways which it can use its state-of-the-art facilities and expertise to support FDB, and other vaccine manufacturers, with skills development as it continues its integral role in the fight against COVID-19.
 "We are delighted to offer up the expertise, facilities and training potential of the National Horizons Centre to support vaccine manufacture and deployment."
Director of the National Horizons Centre, Dr Jen Vanderhoven, said: "The manufacture of a COVID-19 vaccine in the Tees Valley proves that this region has the requisite infrastructure, skills and willingness to be an international centre for the life sciences.
"When it opened in 2019, a key part of the National Horizons Centre's mission was to grow the skills base within the Tees Valley, and nationally, to ensure that the bioindustry was able to keep pace with the demand from the life sciences sector to enable it to grow and develop.
"The global coronavirus pandemic has shown how important this sector is and therefore, we are very pleased to be able to work alongside key partners such as FUJIFILM Diosynth Technologies to help in the global fight against the virus.
"We look forward to further collaboration with FDB as it carries out this incredibly important work developing the vaccine."
Vice-Chancellor and Chief Executive of Teesside University, Professor Paul Croney, added: "At Teesside University, we pride ourselves on our ability to work together with business to address societal challenges through industry-informed research and innovation. Nothing embodies this ambition more than the development of a COVID-19 vaccine and so we are delighted to offer up the expertise, facilities and training potential of the National Horizons Centre to support vaccine manufacture and deployment."
Powering the UK's future