S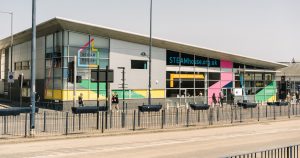 TEAMhouse is Birmingham City University's innovation centre aimed at encouraging co-working, collaboration and knowledge exchange between the arts, science, technology, engineering and maths (STEAM) sectors as a platform for supporting long-term sustainable economic growth, productivity and job creation.
Created in collaboration with local arts organisation Eastside Projects, and supported by the ERDF and Arts Council England, STEAMhouse comprises 15,000 sq ft of space dedicated to coworking, experimentation and production, which people can access for free; with its comprehensive package of business support having already helped a range of innovators take their products to market.
STEAMhouse phase two is currently being developed in Birmingham's Eastside which will see the redevelopment of a historic Birmingham building to help support businesses, innovators and creatives to work together on new business ideas.
In short:
The facility has been masterminded as a place where SMEs and artists can work together on new projects and business ideas.
Based in the former car dealership on Digbeth High Street, Phase One of STEAMhouse features a range of new state-of-the-art facilities which people can access for free, ranging from 3D printers and laser cutting machinery to virtual reality technology and printing studios.
Set over eight different rooms, each space boasts its own specialist technology – much of which is unique in the region – and is equipped with dedicated technicians to support entrepreneurs in their ventures.
By connecting Arts into STEM subject areas (Science, Technology, Engineering and Maths) it is anticipated STEAMhouse will help create up to 10,000 jobs across the West Midlands region and help support the growth of the Midlands Engine.
In December 2019 more than £3 million was invested to create a new virtual reality and cutting edge technology hub at the University's STEAMhouse facility to help create jobs and drive economic growth.
Professor Julian Beer, Deputy Vice-Chancellor at Birmingham City University, said: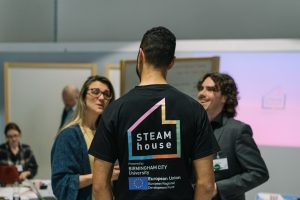 "Incorporating artistry and creativity alongside science and tech disciplines can be a major driving force not just in transforming how a concept goes from design to market, but also the real world difference it will make to users.
"Technology like virtual reality, augmented reality, 5G and digital design will pave the way for the business of the future and now is the time for us to look at how we can harness this for the benefit of the economy."