Anglia Ruskin's Faculty of Health, Education and Social Care is the largest provider of health, social care and education courses in the East of England, and provides students with hands-on experience with the latest equipment and treatments in modern health and social care.
Medicine facilities
ARU's School of Medicine in Chelmsford opened in 2018. The £20 million building boasts state-of-the-art skills facilities, GP simulation rooms, an anatomy suite and a Harvard style lecture theatre.
Take a look around.
School of Medicine
Anatomy suite
A thorough knowledge of anatomy is essential for those who wish to work in medicine, surgery and pathology.
ARU's medical students explore the structure and function of the human body in a state-of-the-art anatomy laboratory. Led by tutors and skilled technicians, students use dissection on Thiel embalmed cadavers – people who have donated their bodies to medical science. They are then able to apply what they've learnt in clinical settings. One of their medical students, Faye, has been blogging about her experiences in the anatomy suite.
ARU's anatomy lab features a large dissection room with ceiling-mounted computer screens, embalming facilities, radiology software, an innovative virtual dissector, 3D printed models from CT scans, and ultrasound machines.
Multi-Functional SuperLabs
Anglia Ruskin have invested £3 million in our brand new SuperLab complex which offer a new method of performing practical sessions and experiments. With 83 student workstations and four lecturer workstations, the lecture and experiment become one. Four lecturers can broadcast simultaneously, demonstrations can be beamed direct to the student's workstation and students have plenty of space to work on their own experiments. Using the latest scientific kits, students get to experience the dos and don'ts of a level two category laboratory and prepare for working life.
The SuperLab space also encompasses a physiological lab to run testing on fellow classmates and get excellent experience in a leading facility. As these labs facilitate Pharmaceutical Science, Medical Science, Medicine and other scientific based courses, students will get the chance to work alongside other disciplines and learn from award winning lecturers and professors.
"Our SuperLab is a perfect example of using advanced technology to create new opportunities for teaching and learning at all higher educational levels. It is not only a great experience to teach using this facilities, but also enjoyable for our students as their stations are equipped with AV systems beside laboratory kit and instruments. Furthermore, the unique design and structure of the lab permit teaching up to four groups at the same time, which helps facilitate our timetabling." Dr Mohammad Najlah, Principal Lecturer of Pharmaceutics
Paramedic Science Facilities
The university's purpose built paramedic skills labs in Cambridge and Chelmsford allows our students flexible spaces to practice their skills in a spacious environment that simulates real-life experiences. There are three dedicated spaces for our students with easy access to all of their specialised kit, mannequins, trolleys and simulation equipment.
There is also a self-contained flat for use by the paramedic students in Chelmsford. This studio flat has a fitted kitchen and bedroom area, separate bathroom with bath, toilet, sink, and shower. This is a teaching and practical space to practice skills and scenarios in places that they are likely to encounter on placement and in work.
"I have really enjoyed our many practical sessions organised by our Paramedic Lecturers in our purposed built skills lab. This is because they are multifunctional and allow us to practice the skills learnt from our theory lectures with the equipment that is used on the road."
Sean, First Year Pa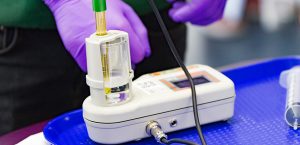 ramedic Student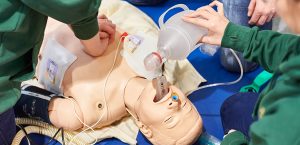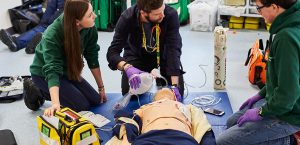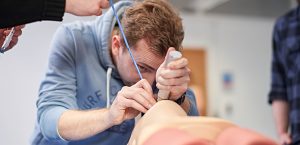 Nursing facilities
ARU's Cambridge, Chelmsford and Peterborough campuses all offer purpose-built nursing skills labs. The labs simulate many aspects of a working hospital ward, and let you use sophisticated healthcare equipment.
They have general nursing wards on all three campuses, as well as dedicated child nursing wards in Chelmsford and Cambridge.
ARU  design skills sessions so that students get hands-on. Students will benefit from working in small groups to practise skills such as bed making, hand-washing, bandaging, communicating with patients, and applying and interpreting basic monitoring.
Skills sessions are a fundamental – and exciting – part of all nursing courses at ARU, and they're constantly striving to use facilities to their best possible advantage.
"As a newbie to healthcare entirely, the clinical domain was a complete enigma to me, but the skills lab was a fantastic place to begin to develop and enhance my clinical skills in a safe, supportive environment. Despite being taught certain skills within the lab, there were times where I lacked confidence. I voiced my worries to my skills lecturer and she set up extra sessions for anyone that felt they needed extra support." Caroline Buttress, BSc (Hons) Adult Nursing student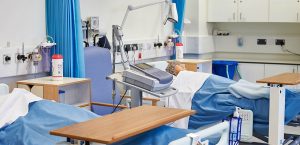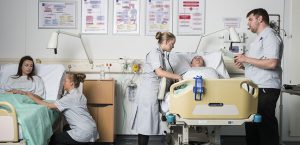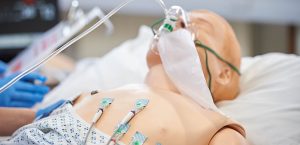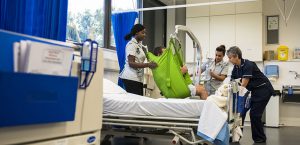 Operating Department Practice facilities
The Cambridge and Chelmsford campuses both offer state of the art purpose built theatres skills laboratories, in which students are able to use sophisticated equipment to simulate many aspects of the perioperative environment.
Students are able to be very hands on, with skills sessions throughout the course, and benefit from working in small groups to practice skills such as airway management, surgical scrubbing, gloving and gowning, preparing a patient for surgery, communicating with patients, applying and interpreting basic and invasive monitoring, setting up equipment and preparation for many emergency situations which may occur in the practice environment. Skills sessions are an exciting part of the ODP Course at Anglia Ruskin University and they are constantly striving to utilise these to their best possible advantage.
"The facilities offered at both our Cambridge and Chelmsford campuses provide students with the opportunity to learn in a fun and stimulating environment, and allows our students to practice and apply the technical skills learnt in the clinical environment to the theoretical evidence which underpins our practice and enhances our professionalism. Our students love the opportunity to work in groups in their cohorts learning these technical skills, and our skills based sessions are integrated throughout the entire course covering the whole range of anaesthetics, surgery and recovery." Lisa Wakeman, Course Leader, Operating Department Practice BSc (Hons)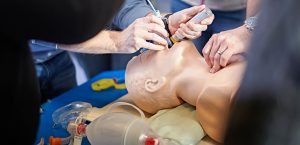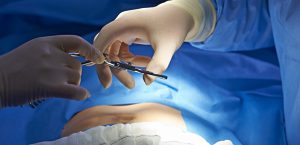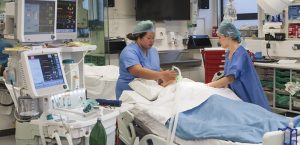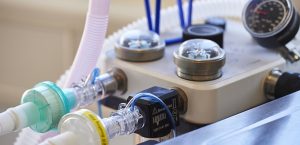 Midwifery facilities
ARU's Cambridge and Chelmsford campuses all offer purpose built midwifery skills labs, in which our students are able to use sophisticated equipment to simulate many aspects of a working ward.
Skills sessions are designed for our students to be practical and benefit from working in small groups to practice skills such as bed making, hand-washing, communicating with patients, applying and interpreting basic monitoring, blood taking, palpations, observations and emergency care. Skills sessions are an exciting part of the midwifery courses at Anglia Ruskin University.
"Skills days are designed to teach you the basics of midwifery practice. There are a lot of helpful models around the skills labs to help you with things you learn in lectures. If like me, you are a visual learner, then the skills days will be fantastic for you. I really struggled to understand the mechanisms of labour and how the baby does all these fantastic twists in the birth canal to aid delivery. After a few times with the doll and pelvis I really understood." Amber Sage, Student on the BSc (Hons) Midwifery