A team of researchers from the University of Hertfordshire, Leeds Beckett University and the University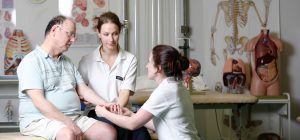 of Nottingham have been awarded over £300,000 of funding from the Alzheimer's Society to co-design resources to improve dementia care in hospital.
People with dementia are admitted to hospital for many health reasons, often not directly related to their dementia. Being in hospital can be frightening and disorientating, and patients with dementia often require additional support from staff during their stay.
This care can come in the form of one-to-one care (also known as "specialing") or bay nursing (also known as "cohorting"). These are known together as "constant observation", a common practice in hospitals that aims to keep patients safe.
It enables staff to provide care that responds to the particular needs that a person with dementia may have. However, to do this well in a busy ward environment is not easy. Staff require support, additional training, and opportunities to think through how the hospital environment can be adapted to reduce distress and confusion.
Rosemary Phillips, a former family carer and co-investigator on the project, said: "My father spent his last month in the geriatric ward of a major teaching hospital, and I was there for several hours every day. There were days when I witnessed some outstanding one-to-one care. And there were other days, with different staff, where the care was poor. What is needed is a clear understanding of best practice, in a form that staff are able to implement".
Led by the University of Hertfordshire, this new two-year project will work with hospital staff and people with dementia to co-design and test resources that can be used during constant observation to support person-centred care.
Dr Melanie Handley, Research Fellow in Health and Care for Older People and joint project lead at the University of Hertfordshire, said: "We are delighted to be working with university and hospital partners in Hertfordshire, Leeds and Nottingham to support best practice for people with dementia admitted to hospital.
"Co-designing resources with the people who will use them and benefit from them is important for addressing the known challenges of providing good dementia care in busy hospital environments. This study will help us to understand if an intervention that aligns patient-safety activities with a person-centred approach, improves the experience of staff and people with dementia to support recovery and reduce distress."
Dr Richard Oakley, Head of Research at Alzheimer's Society said: "Going into hospital can be a difficult and distressing experience for people with dementia – who make up 40% of older people in hospital – so person-centred care is vital.
"The pandemic has stretched hospital staff to breaking point, making it difficult for them to provide one-to-one care for people with dementia. Our previous research found just 2% of people affected by dementia felt all hospital staff understood the specific needs of people with dementia1 – highlighting a need for effective training and resources that staff can implement in a busy hospital environment. It's exciting to be funding a study that could transform this, by making sure staff have the tools and support they need to care for people with dementia."
1'Fix Dementia Care: Hospitals, published by Alzheimer's Society, January 2016
Project partners:
University of Hertfordshire (lead)
Leeds Beckett University
University of Nottingham
The project is led by Dr Melanie Handley and Professor Frances Bunn at the School of Health and Social Work, University of Hertfordshire.
This research is supported by funding from Alzheimer's Society (grant number 516 AS-PG-19a-010).