Anglia Ruskin University (ARU) has been chosen as the official partner of NHS England and NHS Improvement to nurture healthcar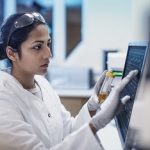 e innovators from across the country and help them gain the commercial skills, knowledge and experience to make their ideas become a reality.
The NHS Clinical Entrepreneur Programme was founded in 2016 and has become the world's largest entrepreneurial training programme in healthcare, helping to transform patient care across the NHS.
In the first four years of the programme over 500 clinical entrepreneurs were recruited. Between them, 247 life science start-up companies have been created, over £270million of funding has been raised through investment largely from the private sector, and more than 30 million patients and users have benefited from the innovations.
Examples of innovations through the programme include smartphone otoscopes to look inside the ear, and drones designed to carry medical supplies between NHS sites.
The programme has seen 134 clinicians returning to work in the NHS (alongside pursuing their entrepreneurial aspirations), and the programme now supports more than four per cent of the life science companies in the UK.
ARU has drawn together a coalition of more than 60 cross-sector partners including NHS hospitals such as Mid and South Essex, Newcastle upon Tyne, Birmingham Women's and Children's, Chelsea and Westminster, Milton Keynes, Northumbria, and Bradford Royal Infirmary, multinational companies such as IBM, Deloitte and Unipart, research charities, and innovation and business support networks such as the We Are Pioneer group and Medilink Midlands to deliver the programme and create economic growth in the life science sector.
This network will provide opportunities for internships, access to NHS test and evaluation sites, academic and commercial facilities in Europe, America, Africa and Australia, access to funding and knowledge exchange and connection to customers. A new intake of 194 entrepreneurs have recently started, taking the total number of entrepreneurs to over 700.
International partners and organisations in Northern Ireland, Wales and Scotland will also be establishing Clinical Entrepreneur Programme Chapters to encourage home grown life science start-ups.
ARU's bid was secured after a competitive and transparent public procurement process and will see ARU deliver an educational training programme for the entrepreneurs, as well as provide educational events, workshops and mentoring.
Professor Yvonne Barnett, Deputy Vice Chancellor for Research and Innovation at ARU, said:
"The global pandemic has demonstrated how important the UK life science industry is to our nation's future. COVID-19 tests, vaccines and virtual medical appointments have been a key part of our battle with coronavirus.
"Now we look forward to delivering entrepreneurial education to the NHS nationally, building on our reputation as a regional anchor for health training and one of the largest providers of HE provision for healthcare professionals in the UK."
Professor Tony Young, National Clinical Lead for Innovation at NHS England and Director of Medical Innovation at ARU, said:
"The NHS Clinical Entrepreneur Programme is one of the largest innovation projects in the world allowing patients to be treated with the latest technology.
"It is fantastic that the NHS is able to strengthen its partnership with the life science industry through this programme and create one of the largest life science park networks in Europe, building on the excellent work of creating the biggest vaccination programme in health service history during the pandemic."
Clare Panniker, Chief Executive of Mid and South Essex Hospitals NHS Foundation Trust, said:
"In Mid and South Essex we have long committed to bringing our patients and residents the very best health and care innovations, as well as supporting our staff to innovate and bring forward new ideas through our MSE Innovation Programme.
"We were delighted to form this coalition with our local partner ARU, and welcome this opportunity to act as a test and evaluation site, helping find ways to transform health and care for the better."
Powering the UK's future