Tuesday 27 April 2021. 14:00-15:00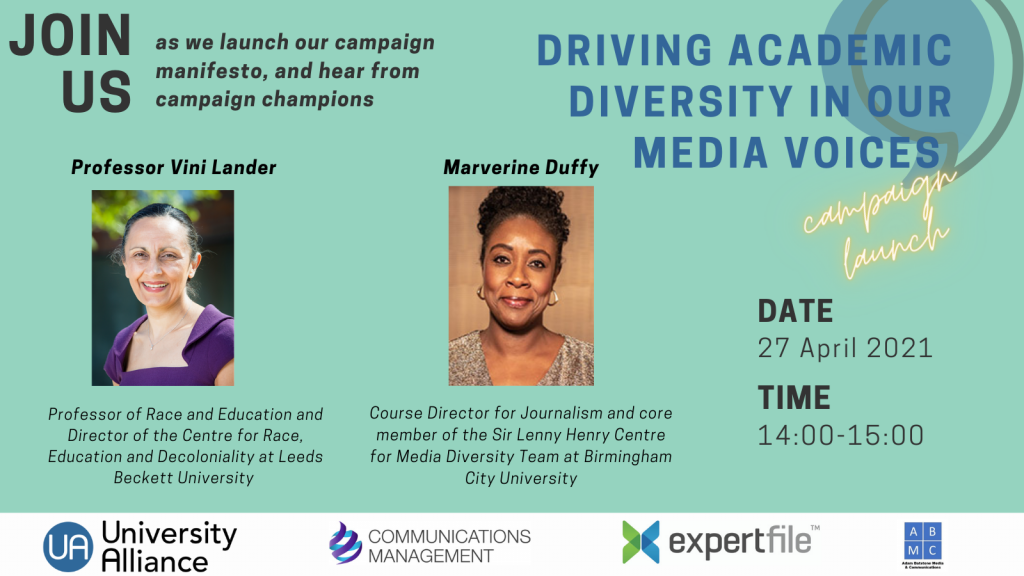 To be officially launched during the event, University Alliance (UA) are undertaking an ambitious 3 year programme of work to establish far greater appreciation of our members' academic expertise and of our applied research capabilities through media coverage, while also increasing the diversity of our experts in order to provide a more representative range of media commentators.
Working with campaign partners Communications Management and Expertfile, and drawing on the expertise of our appointed media champions across the Alliance, the campaign will both support academics at Alliance universities to embrace media engagement opportunities, and proactively promote the diversity of voices available through the media.
Attendees will have the chance to hear from a panel of speakers on the importance of media diversity and how we as a higher education sector can take collective action to ensure greater representation among the academic voices within the media.
More information about the campaign will be shared with attendees in advance of the event, and on the day.
Register for the event here: https://us02web.zoom.us/webinar/register/WN_ko-IcxrfRA658ZzAwfdxqA
Agenda:
14:00-14:05 – Welcome: Vanessa Wilson, University Alliance CEO
14:05-14:20- Official launch of the campaign: Beth Button, University Alliance and Justin Shaw, Communications Management
14:20-14:55: Panel discussion and Q&A with media champions Professor Vini Lander and Marverine Duffy, chaired by Professor Debra Humphris
Speakers: