A PROJECT involving the sustainability expertise of the University of South Wales (USW) has been awarded £1.5m from UKRI's Industrial Decarbonisation programme.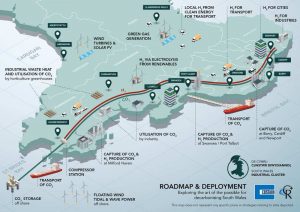 The South Wales Industrial Cluster (SWIC), a partnership between Welsh industry, energy suppliers, infrastructure providers, academia, legal sector, service providers and public sector organisations, has been given the funding to map what is needed to support South Wales in becoming a net zero carbon region by 2050.
Wales has a long and rich industrial heritage, leading the way in the industrial revolution. Now it plans to be a leader of the green revolution. South Wales is the second largest industrial emitter in the UK, releasing the equivalent of 16 million tonnes of carbon dioxide per year across industry and energy generation.
In 2019, the UK became one of the first countries in the world to legislate that it will reach net zero carbon emissions by 2050. If the UK is to hit this target, we need new ways of heating homes, powering businesses and heavy industry and fuelling transport. This requires reducing emissions as far as possible using methods such as energy efficiency, fuel switching and carbon capture utilisation and storage (CCUS); plus offsetting the residual carbon dioxide by other means, such as negative emissions technologies.
The project, led by CR Plus, and entitled "South Wales Industry – A Plan for Clean Growth" started in February 2021 and will last for 26 months. It is funded via the Westminster Government's UK Research and Innovation 'Industrial Decarbonisation Challenge'. This will boost the competitiveness of key industrial regions and drive inward investment, creating and protecting jobs for a low-carbon global economy with growing low-carbon export markets.
The Industrial Decarbonisation Challenge will support delivery of the Clean Growth Grand Challenge and the Industrial Clusters Mission, which has set an ambition to establish the world's first net zero carbon industrial cluster by 2040, with at least one low-carbon industrial cluster by 2030. The mission will help to place the UK at the forefront of the global shift to clean growth, by driving the technologies, services, and markets to produce low carbon industrial products.
The heart of the project is aimed at achieving net zero and at the same time, reversing the decline of heavy industry and creating economic prosperity for Wales. This will be done by developing a plan to preserve the existing 113,000 manufacturing jobs and potentially creating thousands of new skilled jobs by 2050. While this plan is dynamic and wide-reaching, the SWIC is appreciative that there is no "silver bullet" for decarbonisation of industry. SWIC will present numerous decarbonisation pathways to help ensure the wellbeing of future generations.
The partners, businesses and organisations stretching from Pembrokeshire in the west to Monmouthshire in the east, is being led by sustainability and energy engineering consultants CR Plus Limited. As the project lead, it will work with the various sectors to develop holistic industrial site decarbonisation options and create a plan to help ensure South Wales industry as a whole achieves net zero by 2050.
Jon Maddy, Director of the USW Hydrogen Centre at Baglan, who is the academic lead for SWIC, said: "USW will lead on the developing the provision of R&D for decarbonisation and skills development."
Collaborators in the SWIC Cluster Plan project are CR Plus Limited, Associated British Ports, Capital Law, Carbon 8 Systems, Celsa Steel, Confederation of Paper Industries, Connect and Convey Ltd, Costain, Dragon LNG, Energy Systems Catapult, ERM, Front Door Communications, Industry Wales, Liberty Steel, Port of Milford Haven, National Grid Electricity Transmission, Neath Port Talbot Council, Offshore Renewable Energy Catapult, Pembrokeshire County Council, Progressive Energy, ROCKWOOL Ltd, RWE, Siemens, Tata Steel, Tarmac, USW, Vale Europe, Valero Energy, Western Bio-Energy, Western Power Distribution and Wales & West Utilities.